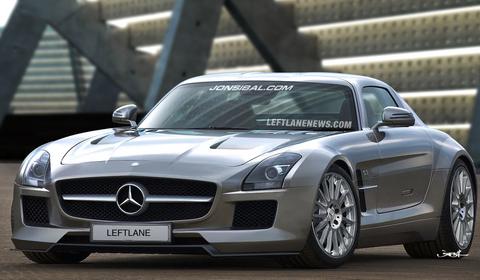 A Mercedes-Benz SLS AMG Black Series is coming our way in the near future. But up to this moment we haven't seen anything more than a set of spyshots made at the Nürburgring in Germany. These shots and the announcement were enough reason for John Sibal to make an initial rendering, showing us how the new Black Series family member could look like.
It will most likely get the typical Black Series modifications. This means more power and less weight. The SLS AMG Black Series should enter the same market segment as the Lamborghini Gallardo LP570-4 Super Trofeo and the Audi R8. Under the hood, although it's not officially confirmed, a 6.2 liter V8 engine will be available tuned to produce up to 650hp. Sprint from standstill to 100km/h will be achieved in just over three seconds while the top speed will be a few km/h higher than the standard SLS AMG.
The picture produced by John Sibal is only a rendering but as there's a formula to the Mercedes' Black Series division offerings. We believe that this picture will be quite close to the final product. The price for the car is expected to rise up to $ 300,000 retail price, higher than the SL65 Black Series.
[Via LeftLaneNews]