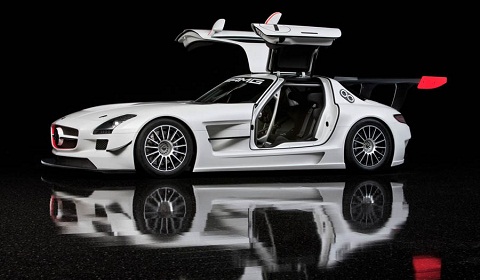 It seems that AMG engineers will produce a Black Series variant of the Mercedes SLS AMG. If rumours are to be believed, Mercedes most powerful supercar will receive the Black Series treatment in the future some time. AMG's Director of Vehicle Development, Tobias Moers, recently told Motor Trend, in an interview that such a vehicle was a certainty.
The SLS AMG Black Series will likely include a whole host of features. For a start, the car will be put on a weight loss program, shedding as much as possible through use of carbon fiber, lighter alloys and lighter component designs. Expect to see a complete overhaul of dynamic features. A large rear wing to provide downforce, a new larger diffuser and new air vents around the vehicle. Power will probably increase by 60-70hp. With all these modifications expect the SLS to take on a completely new personality.
In the same interview, Moers talks about the fact that that a road legal version of the GT3 racer will not come to the US. Mercedes needs to produce the car for homologation purposes. Moers makes it clear that the car will only be available to European buyers as it will only race in Europe. Expect the special edition to come at an extremely high price.
Moers also tells us that a decision as to whether the SLS E-Cell will reach US shores has not yet been made. It will be released in 2012 as a 2013 model for the European market, but Mercedes will need to weigh up the cost of certifying the car against potential sales in the US to decide whether it will be worthwhile. On the price front, we are told that the SLS E-Cell will not be any more than double what the standard SLS model is.