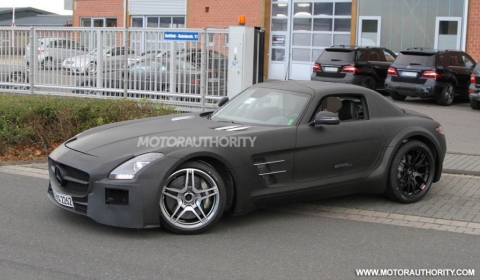 The 2014 Mercedes-Benz SLS AMG Black Series has been discussed for like two years now. AMG's Director of Vehicle Development, Tobias Moers confirmed a few weeks ago that the upcoming release of the Black Series version of the SLS AMG is planned.
The SLS AMG Black Series will likely include a whole host of features. For a start, the car will be put on a weight loss program, shedding as much as possible through use of carbon fiber, lighter alloys and lighter component designs. Expect to see a complete overhaul of dynamic features. A large rear wing to provide downforce, a new larger diffuser and new air vents around the vehicle. Power will probably increase by 60-70hp. With all these modifications expect the SLS to take on a completely new personality.
It is unknown yet exactly when the SLS AMG Black Series will enter production, but we will have to wait until sometime in 2013 for the official unveiling. Up to that moment these spyshots made near the Nurburgring will show us the current test process of the new member to the Black Series family.
For more spyshots check MotorAuthority.