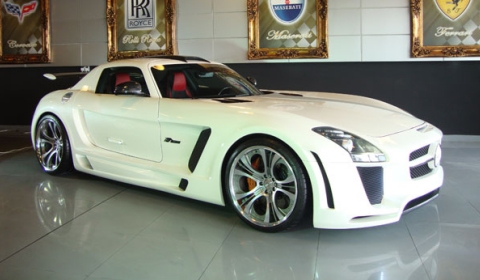 An Arab-owner is selling his Mercedes-Benz SLS AMG Gullstream tuned by FAB Design at Al Ameer Motors in Dubai, United Arab Emirates. It seems that owner got bored with his sports car really quickly.
The 607hp Mercedes-Benz SLS AMG tuned by Swiss company FAB Design was first introduced at the Geneva Motor Show this year and similiar models were spotted in Paris and London this Summer.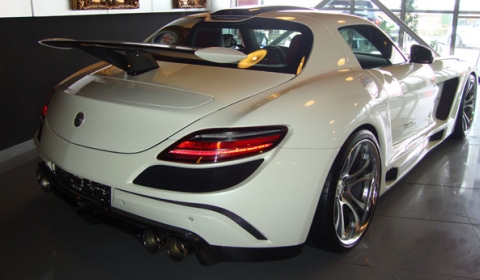 The Gullstream package holds a body kit, which includes a front bumper with vertically positioned daylight running lights, widened fenders and widened quarter panels. The rear bumper comes with bigger vents and has a diffuser that supports lip spoiler made of carbon fiber. FAB has developed a stainless steel sports exhaust system with an integrated valve control and four classic round pipes, a pair on each side. On the roof there's a non-functional air scoop.
Power output has been raised from the standard 563bhp to 607bhp together with 690Nm at 4,600rpm. The SLS Gullstream can do a sprint from standstill to 100km/h in just 3.6 seconds and hits a top speed of 325km/h.
The car has driven 3,500km. The price has not been released. Interested? You can contact Al Ameer Motors right here!