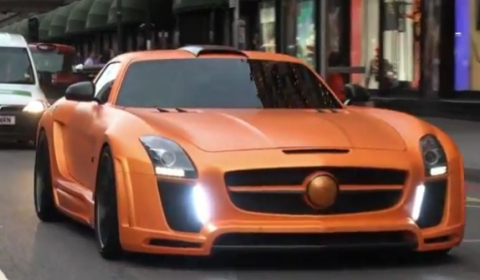 After coming across a white FAB Design SLS AMG Gullstream in Paris just a few days ago, a bright orange Swiss-tuned SLS AMG showed its face in London, UK.
The Gullstream package holds a body kit, which includes a front bumper with vertically positioned daylight running lights, widened fenders and widened quarter panels. The rear bumper comes with bigger vents and has a diffuser that supports lip spoiler made of carbon fiber. FAB has developed a stainless steel sports exhaust system with an integrated valve control and four classic round pipes, a pair on each side. On the roof there's a non-functional air scoop.
Power output has been raised from the standard 563bhp to 607bhp together with 690Nm at 4,600rpm. The SLS Gullstream can do a sprint from standstill to 100km/h in just 3.6 seconds and hits a top speed of 325km/h.