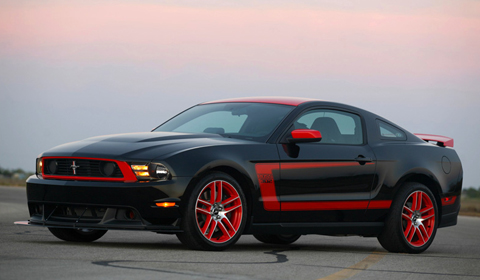 Hennessey Performance has presented their take on the Ford Mustang Boss 302. The American tuner offers three different performance packages, which are designed to make the American muscle car even more powerful.
The Boss 302 Mustang was a high performance variant of the legendary Ford Mustang produced in 1969 and 1970. The American carmaker has recently revived the Boss 302 for the 2012 model year of the Ford Mustang.
The current Boss 302 Mustang is powered via 5.0 liter V8 engine producing 444 horsepower, but Hennessey Performance has added more power. The Texas based tuner offers three performance upgrade packages, ranging in power from 492, 650 and 700 horsepower. The two most powerful version are equipped with a supercharger system.
The HPE650 Supercharged Boss 302 Mustang is able to run the quarter-mile in 11.9 seconds at 200km/h. The tuned muscle car accelerates from 0 to 96km/h at 3.9 seconds.
For more information about these upgrades please visit Hennessey Performance.