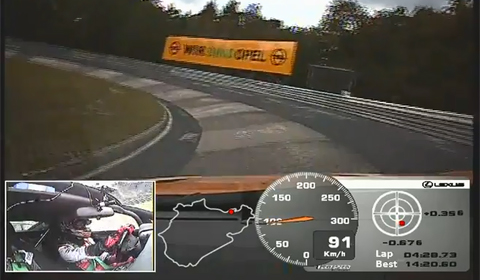 The Lexus LFA Nürburgring Edition has set a new record at the Nürburgring track in Germany, making it the fastest lap ever by a mainstream manufacturer.
This news was confirmed via Twitter by EVO journalist Chris Harris and Lexus Europe. The V10 powered Lexus LFA Nürburgring Edition was driven by Akira Iida. He was able to drive the 562bhp strong car in 7 minutes and 14 seconds around the (in)famous Nordschleife circuit with a total length of 20,6km. This record was set during a customer meeting with LFA buyers held previous week.
The record breaking lap should be good enough for fourth all-time fastest lap in a production vehicle. Only the Radical SR8 LM (6:48), Radical SR8 (6:55) and the Gumpert Apollo Speed (7:11.57) were faster. Compared to the mainstream manufacturers, the Lexus LFA Nürburgring Edition beat the Porsche 911 GT2 RS (7:18), Chevrolet Corvette C6 ZR1 (7:19.63), Dodge Viper ACR (7:22.1) and the Nissan GT-R (7:26.70).
Sadly though no video of this record breaking lap was released, also the record has not been confirmed by the Nürburgring itself.
In the video below we can see a Lexus LFA Nürburgring Edition driving around the Nordschleife, but please notice this is not the record setting lap.
But this is:
[Via Lexusenthusiast.com and Jalopnik]