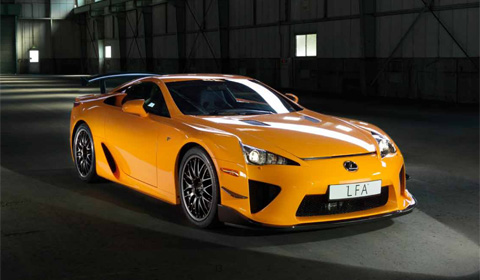 The Lexus LFA, the V10 powered, 560hp, 325km/h supercar, went into production in December 2010. Only one vehicle per day will be assembled by hand in Japan. In celebration of the LFA's third, class-winning outing at the 2010 Nürburgring 24h race, Lexus has created the Nürburgring Edition for those who prefer their car to be a little more track-focused. The Lexus LFA Nürburgring Edition will be limited to just 50 units out of the total production run of 500 LFA's.
The Lexus LFA Nürburgring Edition includes enhanced aerodynamic performance consisting of improved high speed downforce, a larger front spoiler, fin-type side spoilers, canard fin, and a fixed rear wing. The track-focused handling will increase via a sports tuned suspension, a vehicle height reduction of 10mm, exclusive mesh-type wheels and high-grip tyres. The weight of this car is reduced by approximately 100kg thanks to the extensive use of carbon fibre reinforced plastic (CFRP).
The maximum power will be boosted by 10hp to over 570hp to ensure that the LFA maintains its acceleration time of 0-100km/h in just 3.7 seconds and a maximum speed of 325km/h. The maximum torque is 480Nm at 7,000rpm. The transmission is a six-speed ASG automated sequential with a minimum shift time 0.15 seconds. For braking, the car is equipped with carbon ceramic brake discs.
The Lexus LFA 'Ring Edition' will be available only in matte black, black, white or orange. For the interior are three colour schemes available: black and red, black and purple or all black. All feature a carbon fiber center console and door trims, whilst the carbon fiber bucket seats will be trimmed in alcantara.
Before a customer receives his or her car, the LFA will be extensively checked, evaluated and a 200km test drive at the Motomachi track in Japan will be made. Also included in the Nürburgring Package is a individual instruction on the Nordschleife by one of the Nürburgring chief instructors, and a one year driving pass so the new owner can maximize his driving experience.