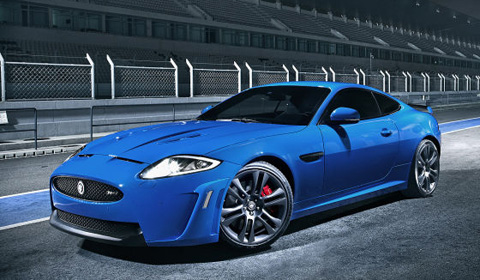 Jaguar just announced the new Jaguar XKR-S which will make its debut at the Geneva Auto Salon 2011 next week. The new 2011 Jaguar XKR-S will be the strongest series produced by Jaguar yet! The XKR-S has 550hp, just 1hp more than the iconic Jaguar XJ220 of the '90s.
Exactly 50 years ago the legendary E-Type made its debut at the Geneva Auto Salon 1961, reason enough for a special celebration. The supercharged 5.0 liter V8 from the Jaguar XKR has been modified further and Jaguar has managed to squeeze out 680Nm of torque allowing the XKR-S to sprint from 0-100km/h in 4.4 seconds. The top speed has been increased to 300km/h. Compared to the electronically limited 250km/h in the 'standard' XKR and 280km/h in the XKR Speed Edition it means it entered the '300km/h club'.
Additional modifications to the XKR-S include a new sports exhaust, sharper suspension settings and optimized ESP program to allow for a bigger tolerance. A new rear spoiler should improve down force and improve grip.
Stay tuned for live pictures of the XKR-S from Geneva!