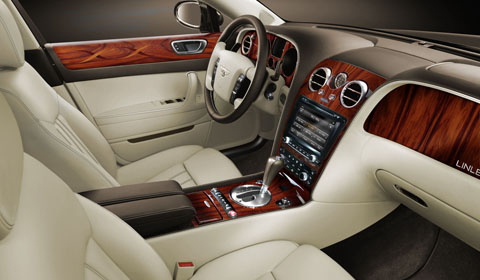 China is becoming more and more important for the automotive industry. Rolls-Royce has presented the Year of the Dragon Collection, which features a special bespoke Phantom for the Chinese market. Now Bentley has unveiled its own special model for the booming Chinese luxury market.
The Bentley Continental Flying Spur model for the Chinese market is developed in collaboration with British design firm Linley. This special model will be limited to ten cars, all of them destined for the Chinese market.
The Bentley Continental Flying Spur Linley Limited Editions will come with key Linley elements in the cabin designed to appeal to customers who value age old handcrafted quality. Linley veneers in Santos rosewood can be found on the fascia, console, waistrail and roof console. The veneers will be used on the entire wood surfaces, where Bentley chestnut or walnut could usually be found.
The Linley Helix motif, which is borrowed from the Helix Furniture Collection, will be used for the waist-rails and picnic table of the Flying Spurs. In addition to that, the rear console will receive a customer-commissioned Linley humidor.
Other features include stainless steel treadplates and a special rhodium-plated plaque in the glove box. The final touch will be a Linley leather bag together with luxury like a cashmere blanket and a leather luggage tag.