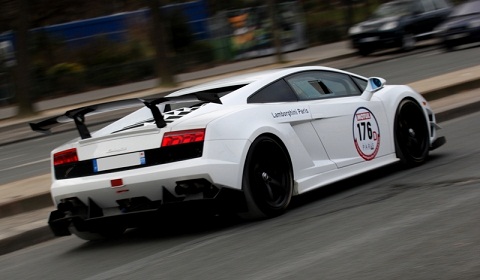 More details emerged about the mysterious Lamborghini "super sports car" which will be unveiled at the Frankfurt Motor Show next month.
According to Auto Express the V10 powered Gallardo is set to goes out with a bang. The British motoring magazine has learned that the Italian manufacturer of sport cars will officially present the most hardcore Gallardo ever produced.
The Gallardo is Lamborghini's most-produced model to date, with over 10,000 built. The final version of the successful Gallardo will be a roadgoing version of the limited Super Trofeo racing car, designed for the brands one-make racing series
Only 30 units of the track version Gallardo Super Trofeo has been made. This car is based on the Gallardo LP 560-4 sports car, but has been upgraded via a reworked chassis, improved aerodynamics and race suspension. The track version of the Gallardo also features the six-speed E-gear paddleshift transmission. The Super Trofeo is powered by 5.2 liter V10 which offers 562hp. Thanks to the expensive use of composite materials the weight of this car is 1,300kg, which is 110kg lighter than the standard Gallardo and 40kg less than the Superleggera.
The ultimate version of the Gallardo which will be unveiled in Frankfurt next month will built following the same philosophy. This would suggest that the final and very limited version of the Gallardo will be more powerful, lighter and more aggressive than any other road going Gallardo. An acceleration of 0-100km/h would be done in three seconds, the top speed would be somewhere near the 340km/h.
The Gallardo will be replaced next year by a car named the Cabrera. Additionaly, Lamborghini is planning a roadster version of the Aventador which will be unveiled towards the end of 2012.