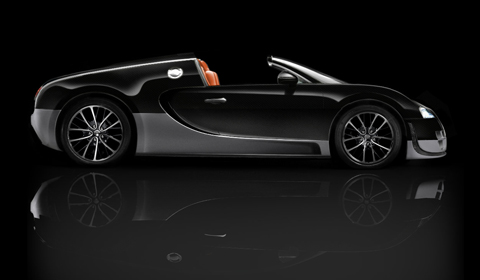 Perhaps you have thought of this combination before, a Bugatti Veyron with no roof and the power of the Super Sport. A Veyron Grand Sport with 1200 horsepower may be desirable for some customers, but this combination is not an option.
In an interview with Dutch magazine Autovisie the CEO of Bugatti (and Bentley) Wolfgang Dürheimer said that it is not possible to integrate the Super Sport package into the Veyron Grand Sport.
The body of the Veyron Super Sport has been fine-tuned to improve aerodynamic efficiency and maintain perfect balance in every situation, while the fiber structure of the all-carbon monocoque ensures maximum torsion rigidity.
Although the Grand Sport has extensive reinforcements to compensate for the lack of standard roof, the structural rigidity of the car is not enough to handle the massive power generated by the engine of the Super Sport. Also, there are aerodynamic difficulties concerning the airflow towards the W16 engine when the rooftops has been removed.
The Veyron Super Sport offers a performance of 1,200 horsepower with a maximum torque of 1,500 Newton metres, compared to the 1,001hp and 1,250Nm of torque of the Veyron Grand Sport.
But Dürheimer stated that a more powerful edition of the Veyron Grand Sport is being considered:
1,200 horsepower is too much, but more than 1,001 is absolutely possible.
The production of the Veyron Grand Sport is limited to 150 cars. At this moment there have been 40 Grand Sports sold. Dürheimer is convinced selling the last 110 cars would not be difficult. He even thinks these cars would be sold well in advance before the luxury sedan Galibier enters production somewhere in 2013.
The Bugatti CEO also told Autovisie an interesting anecdote. Wolfgang Dürheimer was susprised by an order from a customer from the Middle-East. The wealthy man ordered eight Veyrons, two for himself and six for his lucky friends!