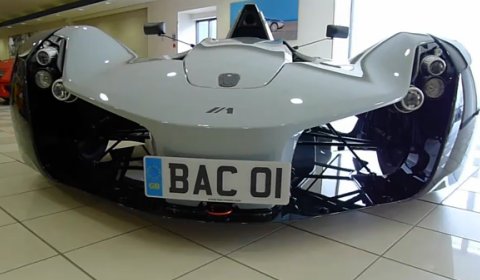 The following video footage of the BAC Mono supercar, being shown at Ferrari Nottingham, was shot last month. The single-seat BAC Mono, a trackday toy developed by BAC (Briggs Automotive Company).
At 520bhp/ton, its power to weight ratio surpasses that of the Bugatti Veyron and it can accelerate to 60mph in just 2.8 seconds, 100mph in 6.7 seconds and on to a top speed of 170mph. Power comes from a 280bhp, normally-aspirated 2.3 liter Cosworth unit mounted longitudinally and mated to an electronically-controlled, paddle-shift, six-speed sequential Hewland transmission with limited-slip differential.
For live pictures of the BAC mono please click here. For the official release information regarding the one-seater click here. The only thing missing is driving footage of the sports car in action.