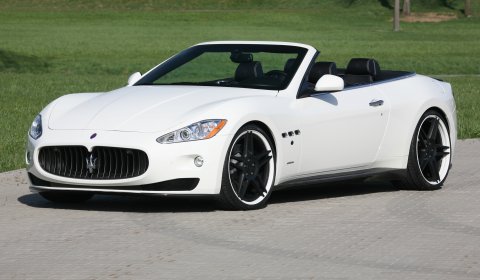 Novitec Tridente has released their program for the Maserati GranCabrio. The refinement includes a supercharged engine and a sporty designer suit with subtle aerodynamic-enhancement components made from clear-coated carbon fiber, three-piece wheels with diameters of 21 and 22 inches, a hydraulically height-adjustable coilover suspension and interior options.
Like the GranTurismo and Quattroporte, the supercharger kit is now also available for the Maserati GranCabrio. The 4.7 liter V8 engine is upgraded with a supercharger driven by a cogged-tooth belt. Maximum boost pressure is limited to 0.35 bar. A water-to-air intercooler with dedicated water circuit, a custom intake manifold and larger injectors have been added as well.
The engine conversion costs 19,900 Euros and can be combined with the sport exhaust system. The fully stainless-steel system features four slanted tailpipes with diameters of 90 millimeters and is available with or without control flap. The former allows the driver to engage in sound tuning from the cockpit.
The performance figures of the supercharged engine speak increase by 150hp to 590hp at 7,300rpm. Simultaneously peak torque grows from 490Nm to 572Nm at 5,400rpm. The sports car sprints from 0-100km/h in just 4.5 seconds. Top speed increases from standard 283km/h to 301km/h.
The front spoiler lips are attached to both sides of the production front apron. In combination with the carbon-fiber radiator grille surround the two spoilers and the rocker panel trim give the vehicle an even sportier face, according to Novitec Tridente. The rear spoiler lip and a diffuser for the standard bumper are outfitted to the rear of the convertible.
The combination of 21- and 22-inch alloy wheels for front and rear axle improve the looks of the vehicle. The three-piece wheels with five double spokes are available in any desired color and upon request even coated with carbon fiber. The size 9Jx21 wheels on the front axle are fitted with Pirelli P Zero high-performance tires in size 255/30 ZR 21. In the rear, size 315/25 ZR 22 tires on size 11.5Jx22 rims.
The sport suspension is specifically calibrated to these new tires. This suspension lets each customer select his or her individual ride-height lowering and damper settings. The Italian open-top luxury sports car also has a nose-lift system. The body can be raised hydraulically at the push of a button by 40 millimeters on the front and rear axle. Afterwards the suspension can be lowered again to its original position at the push of a button. Alternatively, upon reaching a speed of 80km/h the suspension reverts to its original position automatically.
The German tuner can also customize the interior of the Maserati GranCabrio to suit the owner's personal taste. For more information on these options feel free to contact Novitec Tridente.