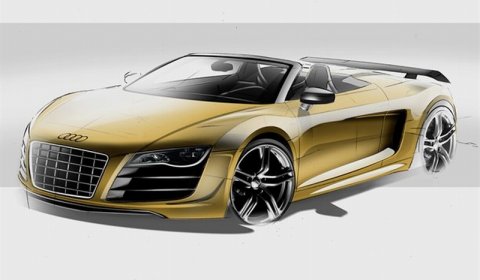 German car manufacturer Audi has released the first official sketches of the open-top version of the Audi R8 GT.
The Spyder version of the fatest R8 available will be based on the same setup as the coupe R8 GT. So a V10 engine with 560hp combined with a four-wheel drive system and the folding roof from the standard R8 Spyder. The Spyder will have 35hp more than both the standard R8 V10 Coupe and the R8 V10 Spyder. The engine is mated to Audi's R tronic sequential manual transmission. 0 to 100km/h is done in 3.6 seconds and the top speed is 320km/h.
Thanks to various carbon fiber parts such as the the rear hatch, spoiler and diffuser, the GT is lighter than the R8 V10 Spyder and also has a lower center of gravity.
It is unknown when the vehicle will be available. The price tag has also not been communicated either, nor has the limited number of vehicles to be produced.