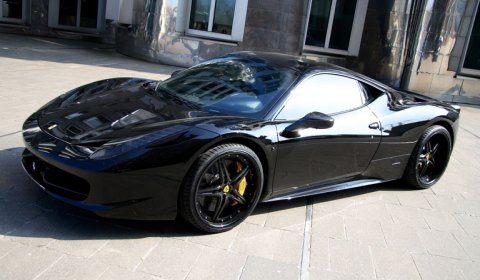 Anderson Germany is not stopping their continuous spree of exclusive tuning programs for numerous super- and luxury cars. The latest in the list is this Ferrari 458 Italia Black Carbon Edition.
Let's start with the visible modifications which include installation of a sport hood and carbon air intakes. These air intakes have built-in water drainage, so that the front trunk of the Ferrari 458 is really dry. Windows and lights were subjected to special tinting. The carbon exterior package consists of wings in the front apron, a rear diffuser and wing mirrors as well as engine covers. Other changes are the 21 inch carbon rims painted in body color with 245 tires at the front axle and 345 at the rear. You will also spot the yellow brake calipers on the pictures below.
A software optimization and an exhaust system with special manifolds and Rennkats offer a performance increase from 570 to 623hp and a torque increase of 96Nm. The exhaust system saves 18kg and has an exhaust path with a remote-controlled valve adjusting system with three different levels of noise. In addition, a specially developed heat protection sleeve is designed for the complete system including manifolds, reducing the temperature by up to 60 percent, and provides increased security against overheating, while assuring a power increase.
The interior has air intakes, center console, door handles, door sills, a steering wheel, a tachometer border, shift paddles, and seat adjustment handles all in carbon fiber. The interior in black color with carbon leather was combined with black Alcantara and diamond seams. The sound system with DVD player, subwoofer, amplifier, speakers and the Bluetooth provides a good sound.