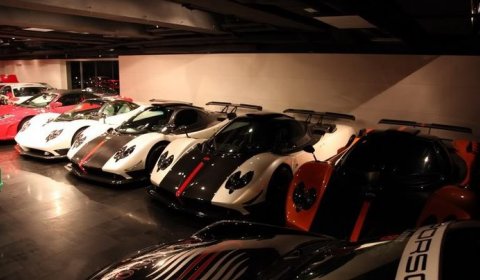 If there is a garage any petrolhead would dream about, it is the following place which one of our forum members tipped us about. The amazing supercar collection shown on the pictures below includes the best of the best.
The collection includes one of the largest, if not the largest Pagani collection in the world including a Zonda R, a Zonda F, a Zonda F Roadster and two Zonda Cinques. Other hypercars worth mentioning include a Mercedes-Benz CLK-GTR Coupe for the road and one for the track, a Ford GT40, numerous Porsche cup racers, a Lamborghini Miura and a large variety of Ferraris; F50, 288 GTO, Enzo and a FXX.
The collection is truly one of a kind and the best we have seen in a long time. It is said that part of this amazing collection belongs to Eddie Yau, a vivid car collector from Hong Kong who races in the Asian Supercar Cup and he also happens to be the owner of the one-off Pagani Zonda Absolute we reported about earlier.
Update: This amazing supercar collection can be found at SPS in Hong Kong. SPS is an extraordinary supercar dealership that not only sells cars but also offers service and storage for supercar owners in Hong Kong. SPS also participates in races including the Asian GT3 Cup and this is where the link with Eddie Yau comes in. Eddie Yau is supported by SPS in the Asian Supercar Cup. SPS offers a great mix of private and commercially owned super- and hypercars that most people can only dream about!