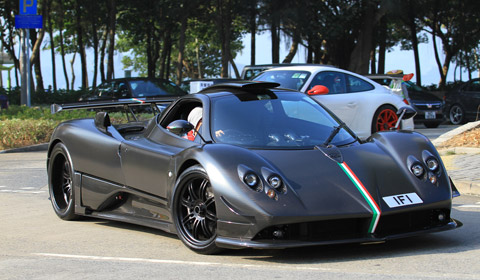 Back in December last year we reported on a new one-off edition of the Pagani Zonda called the Zonda Absolute. The Pagani Zonda Absolute can best be described as a Zonda Cinque with the body of the non-street legal Zonda R. That mix is finished with some custom modifications and badges and there you have it.
As we reported earlier the Zonda Absolute was destined for a client in Hong Kong. Rumour has it this client has one of the largest Pagani collections in the world and already owns a Pagani Zonda Cinque and a Pagani Zonda R. Today we received some photos of a supercar meet in Hong Kong that the Pagani Zonda Absolute attended last week. Of course having a Pagani collection shows signs of great taste already, but this car is one of the best looking supercars we have ever seen.
The Zonda Absolute is finished in a combination of matte carbon fiber and gloss carbon fiber and features many black details like the Pagani Zonda Cinque wheels and the matte black Zonda Absolute badge. The Italian flag pays homage to the birth place of all Pagani's.
[Photos thanks to Toby Lam and IcyJ]