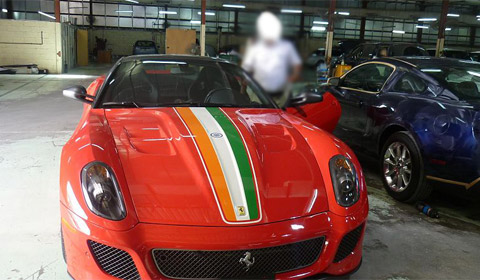 Last Sunday India won the 2011 World Cup cricket, bringing home their second cricket World Cup victory ever after their first World Cup win in 1983. As a special present their captain MS Dhoni received a one-off Ferrari 599 GTO India Edition to celebrate their win.
The Ferrari 599 GTO India Edition is an otherwise standard Ferrari 599 GTO with the Indian tricolor flag on the bonnet and a special plate in the interior pointing out the special India edition.
Despite being an India special edition the steering wheel is on the left side, rather inconvenient in India where the traffic drives on the left side of the road. Just the idea of driving a Ferrari with the steering wheel on the wrong side in the busy Indian traffic is quite challenging.
We wish MS Dhoni a lot of fun with his gift and hope to see some photos from the Indian roads soon!