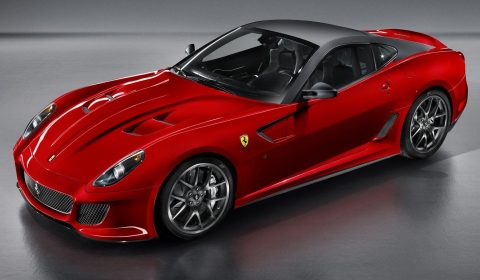 Finally, Ferrari has unveiled the first photos and information on the new 599 GTO. The rumoured prancing horse is the company's fastest ever street-legal road car. It is an exclusive limited edition and a completely new concept inspired by a production car. In fact the 599 GTO is based on the 599XX and can be considered almost a road-going version.
The 599 GTO is reserved for just 599 clients and set a record lap time at Fiorano in 1'24". The Fiorano lap time provides just us with information regarding the potential of this car. The technical specifications complete the story. 670hp in a 1495kg car represents a weight-to-power ratio of just 2.23kg/hp and ensures a 0-100 km/h acceleration time of just 3.35 seconds as well as a top speed of over 335km/h.
The 599 GTO features the latest from the Italian brand and is equipped with the second-generation carbon-ceramic brakes which are lighter and offer better performance, new aerodynamic innovations, such as the wheel doughnuts which increase aerodynamic efficiency as well as improve brake cooling, and the Supersport tyres developed by Michelin include a wider front tyre for greater roadholding. The driver-car interface is also new with the adoption of the Virtual Race Engineer (VRE) which provides the driver with instantaneous information on performance.
The 599 GTO's more aggressive character is also apparent in a number of styling elements that recall the 599XX and from the powerful sound of the V12.
An exclusive preview for a small number of Ferrari clients will be held on April 14th at the Military Academy in Modena. The public debut of the 599 GTO will be at the Beijing International Motor Show at the end of April. Pricing stays unknown up to this point.
People who are curious or interested in the new GTO can check out the online configurator.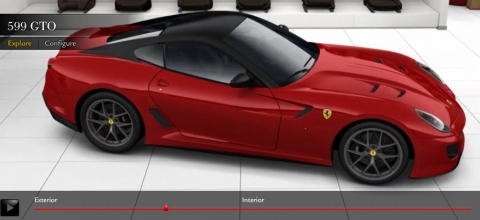 For those in need of more information regarding the options the guys at Autogespot.com supplied us with some pictures. Please check out the gallery below!