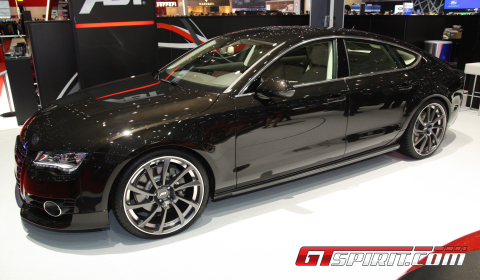 ABT Sportsline has released the Audi A7 Sportback a few weeks ago. The German tuner has officially debuted the luxury saloon car at the Geneva Motor Show yesterday.
For the Audi A7 3.0 TDi engine there is the ABT Power Package. The output of this engine increases from the standard 245hp to 282hp, the torque rises from 450Nm to 500Nm. Also available is the ABT Power S program which increases the power even more, bringing the total amount of horsepower to 310 and the torque to 610Nm. The ABT A7 with petrol engine offers 410hp, compared to the standard 300hp.
The ABT A7 body kit includes side skirts, front spoiler and a rear skirt set with a four-pipe exhaust unit. Also optional are designer light alloy wheels in the sizes 19 to 21 inch. These are also available in combination with high-performance tyres. The package is completed by lowering of the air suspension via the ABT Level Control.