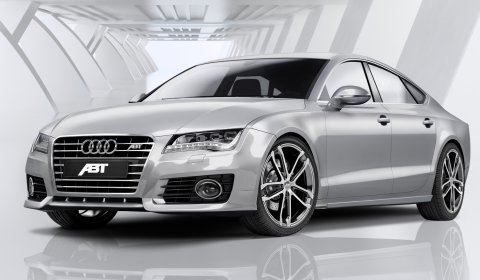 German tuner ABT Sportsline has released their take on the Audi A7 Sportback. The ABT A7 program includes a wide variety of parts. The body kit includes side skirts, front spoiler and a rear skirt set with a four-pipe exhaust unit.
The series standard 245hp of the 3.0 TDi engine is increased to a powerful 282hp using the ABT Power package. The torque also rises from 450Nm to 500Nm. The turbo diesel runs even more powerfully with the ABT Power S program. This is because ABT's own turbocharger is installed and the Sportback therefore brings 310hp and 610Nm of torque. The ABT A7 with petrol engine offers 410hp, compared to the series-standard 300hp.
ABT offers designer light alloy wheels in the sizes 19 to 21 inch. The alloys are also available in combination with high-performance tyres. The lowering of the air suspension via the ABT Level Control complements the package.
Stay tuned for more on this vehicle from the Geneva Motor Show 2011.