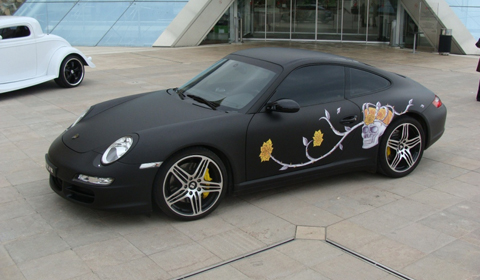 Dartz have been regular attender at Top Marques Monaco for a while now, with the opening of Dartz France it seems that the Russian company have started to diversify. These photos, shot at the Top Marques Monaco 2010 press conference show what Dartz have been working on.
We will let Leonard, Dartz's representative, explain:
After getting big kick and realizing our mistake with whale penis leather interior on UberLuxury Armored car Dartz Promberon Monaco Red Diamond edition, we promised to find other solution. And we did it. Today, March, 19 – at Top Marques Monaco press conference we shown one of our artworx – Porsche covered with Whale Skin Vinyl, new generation of car wrapping materials. This vinyl is not regular vinyl which became more and more popular car trend. This is authentic copy ….yes, this is a copy of whale penis skin surface. But no whale lost their penis – as this is artificial covering.
So, you can get the vinyl from Dartz' French office. A final thought to leave you with is that the Promberon Monaco Red Diamond Edition is said to be on track and ready for its Monaco release.