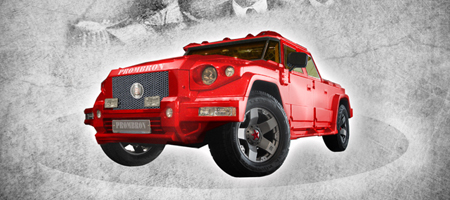 We took a close look at the Dartz Kombat T98 whilst we were at this years Top Marques Monaco show. It's a unique machine, fit for even the most eccentric dictator. It's bold in both design and physicality. Steel plated doors and 7cm thick windows mean that it can withstand attack by both bullets and grenades. When we were informed about this new 'Red Diamond' edition and started reading down the list of extras, we were impressed!
It's actually scheduled to be displayed at next years Top Marques show. The car itself is actually being marketed under the Prombron name, backed by investment from parent company Dartz. Prombron built armored cars from the late 1910 period for Czar's and Communist dictators so it's a fitting modern day re-incarnation.
Moving onto the car, the name comes from the Matte red exterior. From here on, the list is uncompromising. Gold plated, bulletproof windows are promised to compromise the bulletproof 22inch alloys. A tungsten exhaust and tungsten badging and gauges, complemented by white gold gauges encrusted with precious gem stones also add to the list. Extra kevlar coating, just in case you happen to be driving through a war zone, and a Rogue Acoustic Audio System to ensure you can't hear the carnage are all included.
Dartz Monaco Red Diamond Edition
A few more interesting specifications are the inclusion of a "whales penis leather interior"!
At the moment, Dartz are also working on a deal that would include a Vertu mobile phone in the package with it's very own panic button.
It's not all serious however. In fine Russian tradition Dartz will also include three bottles of their ludicrously expensive Russo-Baltique Vodka.
The Monaco Red Diamond Edition is currently in the stages of production so we don't have many pictures to show you but we've included a couple of the T98. They reckon a price between €750,000 and €1 million should be expected. To give you a better idea, the T98 at Top Marques was sold for €700,000. For more info contact Dartz through their website.
Dartz Kombat T98