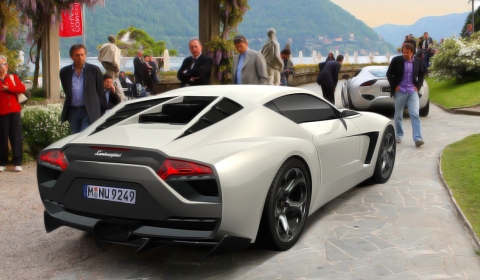 The Lamborghini Toro LA690-4 – you are now looking at – is a conceptual study penned by independent designer Amadou Ndiaye. The Toro LA690-4 is a front-engined supercar created to compete against other exotics like the Aston Martin One 77 and the Lexus LFA.
The designer's words express that the car's LA 690-4 designation stands for 'Longitudinale Anteriore' or 'Front Longitudinal' in English, while "690" refers to the V12 engine's fictional output and '4' to the car's all-wheel drive system. The V12 engine is coupled to a seven-speed double clutch transmission. Ndiaye envisions that the chassis, body panels and other parts of the car should be made from carbon fiber and magnesium to save weight.
We must say the looks aren't a true Lamborghini-styled design. The long nose with its negative angle and short back aren't really design influences we see in current Lamborghini designs. The pictures show a LF-A look-a-like with some decent Lamborghini influences from current production and concept models. What are your thoughts on the design?
[Via Carscoop]