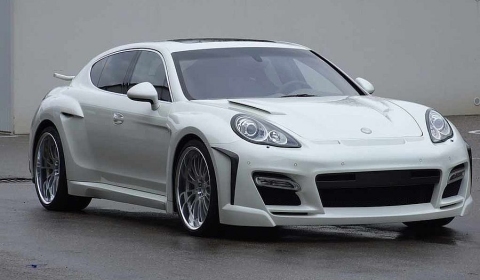 This is our first look at FAB Designs take on the Porsche Panamera. To be honest, it's every bit as over the top as we expected it to be! Aside from having a completely new, wild look, this Panamera apparently benefits from a series of engine upgrades that push peak power up to around 700bhp.
Whilst we wouldn't go as far as saying it's a tasteful design, there's definitely a better look going on here than what we saw on other FAB Design cars.
As you would expect, there's a lot of carbon fibre incorporated into the new aero kit. To our eyes it looks like FAB Design have opted to change every panel, adding new side skirts, front and rear bumpers, a diffuser, rear spoilers and a whole host of extra air vents. Of course, no FAB Design creation would be complete without a set of 22inch alloys either!
The most dramatic change comes when you take a look at the rear (an area that the Panamera received much criticism for). Three central exhausts, much like those found on the new Ferrari 458 Italia, dominate the back. A carbon fibre arches from either end of the diffuser creating a circular rear area that's definitely the central design element of the car.
Underneath the bonnet we're hearing that a new sports exhaust and engine management controls rate the power up to 700bhp.
As far as the tuned Panamera's go, this looks to be one of the most individual designs. We're sure that the kit will appeal to FAB Design's Middle Eastern customers.
That's all we've been told at the moment but when we hear more we'll let you know.
[Via AutoBlog.nl]