Jan Kopecký is the winner of this year's FIA ERC Barum Czech Rally Zlín, his fifth career win in this event which also happens to be his home round. The Skoda Motorsport driver piloting a red Skoda Fabia R5 dominated most of the rally albeit with stiff competition from Russian Alexey Lukyanuk who lies second in the overall standings.
Lukyanuk managed to snatch the lead for the first time on SS5 but fell back after going off-road, allowing Kopecky to reclaim the lead. A series of fastest stage times allowed Lukyanuk to place his Ford Fiesta RS on top again, a battle that culminated to today's thrilling penultimate and final stages between the two drivers.
Kopecky thrived through the penultimate stage and was only 4.6s ahead of Lukyanuk who was pushing thoroughly. Unfortunately for the Ford driver, his steering broke and he lost 10 minutes making repairs, he ended up finishing outside the top ten.
Filling P2 and P3 were two more Skoda Fabia R5s from Tomáš Kostka and Jan Cerný, marking a perfect weekend for Skoda with a clean podium sweep. As if that was not enough, Skoda went ahead to claim P4 and P5 thanks to Pavel Valoušek and Fabian Kreim who finished fourth and fifth respectively.
Martin Vlček gave Ford the best finish today by crossing the line in sixth place, driving a Fiesta RS. In total, Skoda had 8 cars in the top ten, including one Skoda Fabia S2000 of Miroslav Jakeš.
In the overall standings, Kajetan Kajetanowicz continues to lead the rally with 160 points ahead of Lukyanuk who has 84 points. Ralfs Sirmacis is third with 79 points followed by Craig Breen and Freddy Loix who both have 38 points.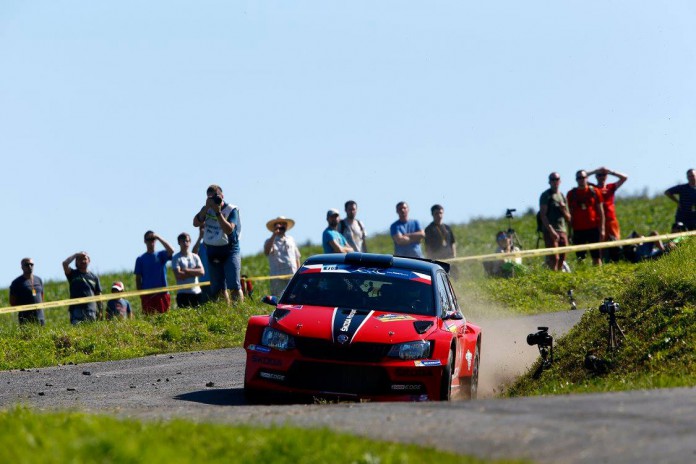 Rally Liepaja will mark the penultimate round of the 2016 season, set for September 17.