Predictably, Novitec Rosso has released a tuning package for the Ferrari 488 Spider. Riding on the coat tails of its recent success with the Ferrari F12, the German tuner offers a range of cosmetic, aerodynamic and performance upgrades for owners that wish to stand out from the mainstream styling.
A set of tailor-made components are on offer, interchangeable with the coupe 488 GTB. At the front, Novitec fits a new spoiler lip with a surround for the central air intake and side flaps. Novitec rocker panels, carbon door mirrors and blacked out turn signals add further detail. At the rear, there is an additional diffuser element and a rear spoiler lip as well as carbon surrounds for the taillights and blacked third brake light.
Novitec Rosso Ferrari 488 Spider
Novitec Rosso NF4 forged wheels are available in size 9Jx21 at the front with 255/30 ZR 21 tires and 12Jx21 at the rear with Pirelli P Zero rubber in size 335/25 ZR 22. Alternatively, Novitec Rosso NF7 alloys with ten spokes are also available measuring 9Jx21 at the front and 12Jx22 at the rear. A Novitec hydraulic suspension system is also available which operates up to 80 km/h, raising the ride height by 40 millimeters.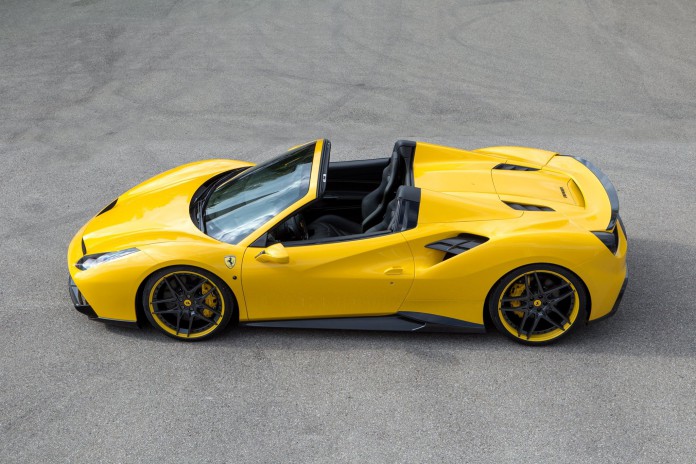 Novitec Rosso's current ECU tuning is also on offer. The 3.9-liter twin-turbo V-8 engine remains mechanically untouched, yet two N-TRONIC control modules calibrate mapping for the injectors, ignition and boost to provide an additional 102 hp and 132 Nm of torque. Peak power is now 772 hp at 7950 rpm and 892 Nm of torque at 3,250 rpm. Top Speed is 342 km/h with a 0-100 km/h sprint time of 2.8 seconds. An inconel exhaust system complements the performance improvement.
As you would expect, the interior is completely customisable.