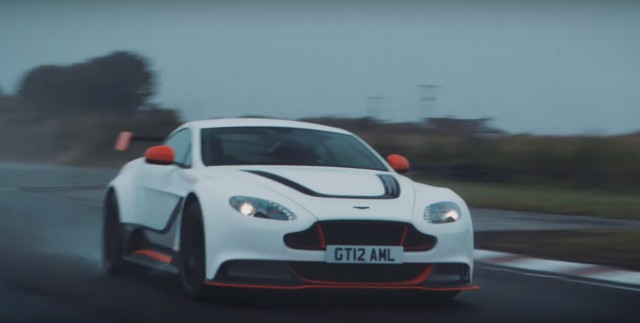 Unveiled back in Geneva, the Aston Martin Vantage GT12 is arguably the most hardcore road car the British firm has ever produced. Taking inspiration directly from the Vantage racing cars, the GT12 is undeniably insane. Is it too insane to drive on the road however? Well Chris Harris has the answer.
Beyond sampling the car on some stunning British roads, the journalist also took the GT12 to the race track where it is definitely at home. The video provides us with an awesome look at just how driver-focused the Vantage GT12 is and just how amazing its upgraded 5.9-litre V12 engine sounds!
[youtube]https://www.youtube.com/watch?v=F5jmHUnpGug[/youtube]
A mere 100 units of the Vantage GT12 are being produced and unsurprisingly, all have been sold. Interestingly, when the car was first unveiled it was dubbed the Aston Martin Vantage GT3. Due to opposition from Porsche however, the British marque was forced to change the car's name to GT12.
All 100 units of the Aston Martin Vantage GT12 feature the firm's customary 5.9-litre V12 engine tuned to deliver 592 hp as well as 461 lb-ft of torque. By comparison, the already potent Aston Martin V12 Vantage S produces 565 hp and 457 lb-ft. Helping to achieve the power and torque gains are new inlet manifolds, a titanium exhaust system as well as tweaked geometry. Finally, the torque tube is now made of lightweight magnesium and the titanium exhaust alone saves 19 kg from the car.
Thanks to this engine, the Vantage GT12 will accelerate to 96 km/h from a standstill in a mere 3.5 seconds down from the 3.7 seconds needed by the V12 Vantage S. Due to the added downforce generating elements of the Vantage GT12 however and the higher drag, the top speed has dropped from 329 km/h (205 mph) to 297 km/h (185 mph). Tweaks to the seven-speed transmission have also been made.