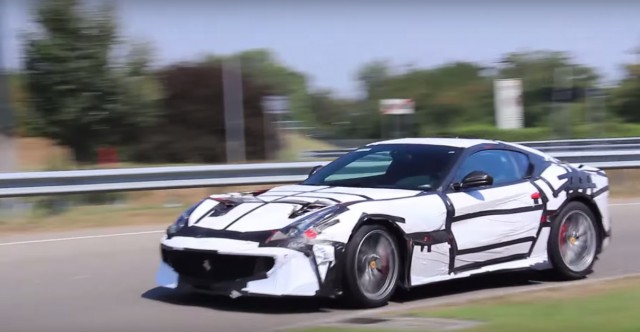 After being snapped completely undisguised at Ferrari's Maranello factory, a prototype of the upcoming F12 Versione Speciale has just been filmed on the streets for the very first time.
Despite being filmed by a number of photographers, the Ferrari test driver behind the wheel of the hardcore F12 wasn't shy in showing off the car's capabilities. At one stage, we get to see and hear the car accelerating hard over a bridge providing us with our first chance to hear the upgraded V12 engine in action.
[youtube]https://www.youtube.com/watch?v=1AX_siO82ow[/youtube]
The specifications for the Ferrari F12 Versione Speciale are not public knowledge. However, we hear that it will be a naturally-aspirated machine, powered by a 6.3-litre V12 engine. It will almost certainly produce around 800 hp and some are suggesting it could use the HY-KERS system developed for the LaFerrari. It should weigh approximately 1415 kg thanks to a 100 kg weight reduction. Just 650 copies will be produced and should land on customers driveways in Spring 2016.
Beyond the powertrain modifications, the F12 Versione Speciale will also feature a selection of visual and aerodynamic tweaks.