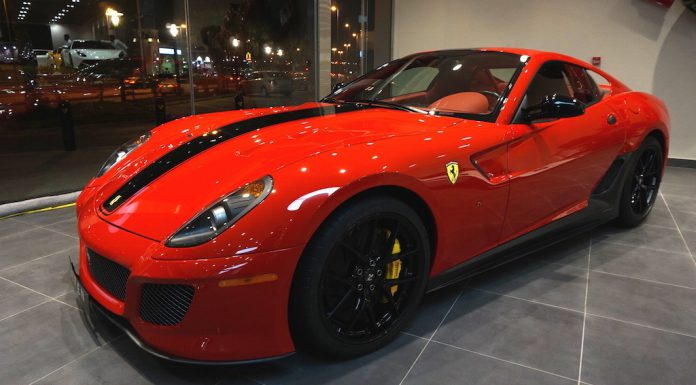 Seven Car Lounge in Riyadh, Saudi Arabia has quickly made a name for itself as one of the Middle East's premiere exotic car dealerships and it is little wonder why. In recent months, it has or is currently selling all three of the hybrid hypercar trio (LaFerrari, McLaren P1 and Porsche 918 Spyder) as well as a couple of Pagani Huayras and a Koenigsegg CCX. Now one of the rarest and most sought-after modern Ferrari models is being sold by Seven Car Lounge.
The car in question is of course the Ferrari 599 GTO. This particular model is a 2011 model and is one of the most nicely specced a variants we've come across. The red paint has been offset with a prominent black racing stripe running down the centre of the car with carbon fibre side skirts also featured. Additionally, a matte black rear diffuser has been optioned on this Ferrari 599 GTO.
Elsewhere, all of the Cavallino badges have been blacked out with gloss black wheels also featured alongside bright yellow brake calipers. Despite being almost four years old, this 599 GTO has only 600 km on the clock!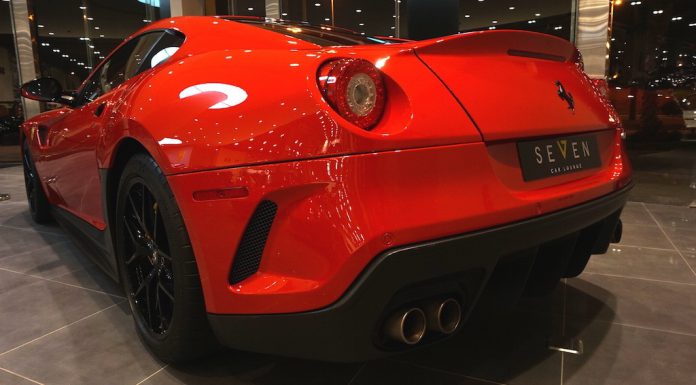 In case you need reminding, the Ferrari 599 GTO is actually more closely related to the track-only 599XX than it is to the 599 GTB. Under the hood, the 6.0-liter V12 engine has been uprated to deliver 661 hp at 8250 rpm and 460 lb-ft of torque at 6500 rpm. As a result of this extraordinary power, it is one second faster around the Fiorano test track than the Ferrari Enzo!