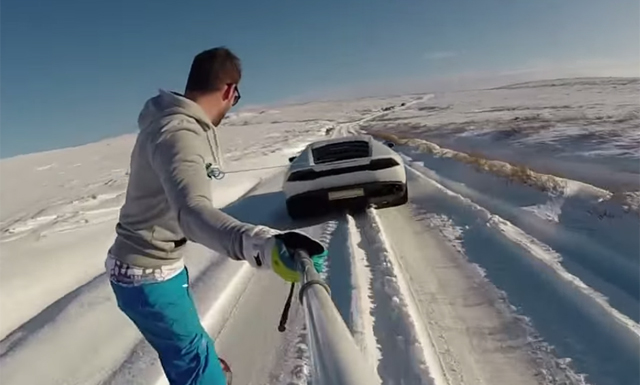 What do you get when you combine a Lamborghini Huracan and a snowboarder? A video of the snowboarder sliding behind the Italian supercar while holding onto a rope wakeboard style of course!
[youtube]https://www.youtube.com/watch?v=CU6whuB-2oU#t=73[/youtube]
The clip is somewhat reminiscent of a clip which emerged last year of a Ferrari F50 pulling along a wakeboarding across an adjacent man-made river. While the following clip isn't as high-paced as the F50 one, any footage of a Huracan driving on snow is exciting. As a result, this definitely isn't a video to miss if you can spare a couple of minutes!
GTspirit Review of Lamborghini Huracan

While the Lamborghini Huracan is out-powered by the recently revealed Ferrari 488 GTB and McLaren 675 LT (by some margin), its all-wheel drive system means it is much better suited to snow and ice driving. All four wheels are of course powered by a 5.2-litre V10 engine delivering a total of 602 hp which is coupled with a seven-speed dual-clutch transmission.