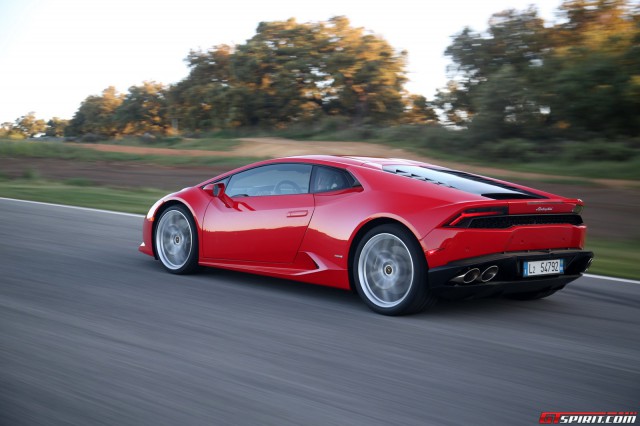 All-new Lamborghinis do not come along every day, and it has been nearly three years since the Aventador roared onto the supercar stage. But today, we are at the Ascari Race Resort in Spain to find the limits of Lamborghini's all-new Huracán, which picks up the baton from the hugely successful Gallardo.
The normal production lifespan of a car is seven years, eight at a pinch. But the Gallardo hung around for a full decade, selling 14,022 units in the process.
That is small beer in mass production car terms, but it is almost half of the total cars made by Lamborghini since it's founding in 1963. That makes the Gallardo the single most important money-spinner in the firm's 51-year history.
While it retains the edgy design ethos that instantly separates a Lamborghini design from its competitors, the Huracán (Spanish for Hurricane, and pronounced Hoo-rah-khan) appears softer and more mature than its predecessor, as well as its visually more demonstrative big brother, and looks stunning in any colour.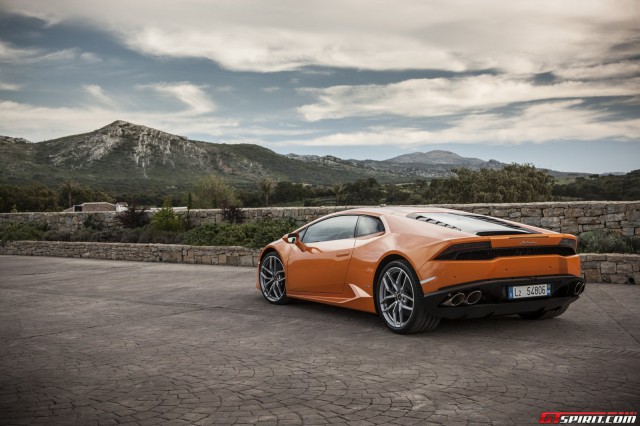 After a day's driving it is clear that the new entry-level Lamborghini is more approachable than its predecessor on all levels. It is also a completely different kind of car from big brother Aventador, which remains the faster and less compromising all-round experience.
Thus, the 2015 Lamborghini Huracán opens the doors to new clients for Lamborghini, some of who may never have owned a mid-engined supercar before. With high expectations from owners of super-saloons like the Audi RS6, BMW M5 and E63 AMG, the Lamborghini Huracán is well placed to be that first supercar.
While the dynamic and ergonomic step up is crystal clear for existing Gallardo owners, the 10-year-old design still looks cutting edge in any company today. Only its comparatively firm ride quality and jerky old school e-gear system are seen as major flaws in today's more sophisticated supercar world.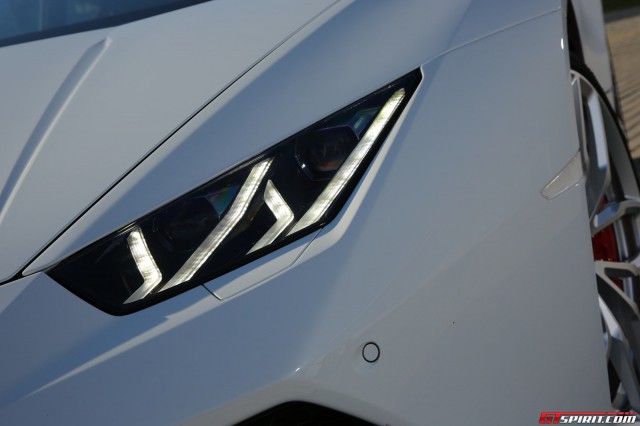 While the high quality interior is totally fresh, a very important addition is the long aluminium paddle shifter on each side of the steering column. The spindly plastic VW Group shift stalks were a frustrating ergonomic weak point of the Gallardo.
The big 12.3-inch TFT screen is black with the ignition off, but lights up with big, clear graphics that prioritise the rev counter. You can then quite intuitively scroll through the multiple functions with the buttons on the console and steering wheel.
Although the steeply raked front screen has approximately the same angle as the Gallardo's, the relationship of the driver to the A-pillars, and its profile has changed for the better. Where I had a partial visibility blind spot going into left hand sweepers in the Gallardo, no such problem exists with the 2015 Lamborghini Huracán.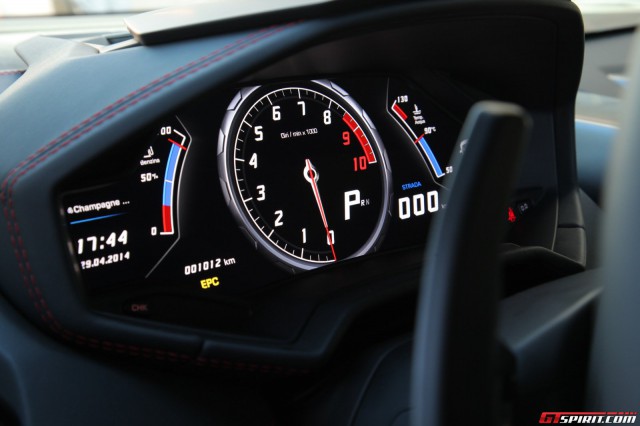 The structure is largely aluminium. Carbon-fibre is used for the rear bulkhead, centre tunnel and the aft third of the side sills, and bonded to the aluminium monocoque. The body panels are mainly aluminium with some composite parts.
"It was a question of using the right materials in the right places," explained design chief, Filippo Perini. "Our aim was to make the structure stronger and lighter, and we achieved a torsional stiffness of around 30,000 Nm/degree, a 50-percent improvement." At 1,422 kg (dry) the Huracán is 10-percent lighter than the Gallardo, and weight distribution is 42/58 percent front/rear.
"Using more carbon-fibre as on the Aventador was not necessary to achieve our target numbers of weight and stiffness, and in any case would have taken us beyond the cost limits set for this project," he said.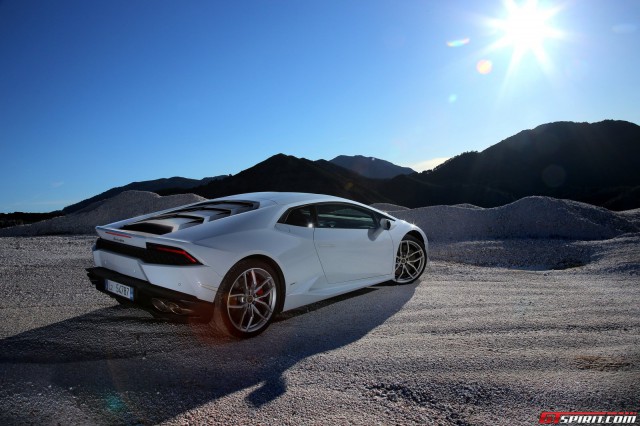 While the drag coefficient is about three-percent better, of more significance is the 50-percent greater downforce achieved without any moveable aerodynamic aids. "We did a huge amount of work in the wind-tunnel to reach our goal of a simple and pure shape without wings or big spoilers," he explained. "With no motors to move things we also saved weight and complexity."
Marco Passerini is one of the legendary Lamborghini factory drivers, and is piloting the Aventador pace car in front of me at Ascari. With a 100hp advantage and much more torque from its larger displacement V12, the Aventador easily pulls away down the long straight bits.
However, the more compact Huracán is all over the rear of its big brother in the slower, twistier sections, and I am having a whale of a time pushing the slower car to its limits and beyond to keep up.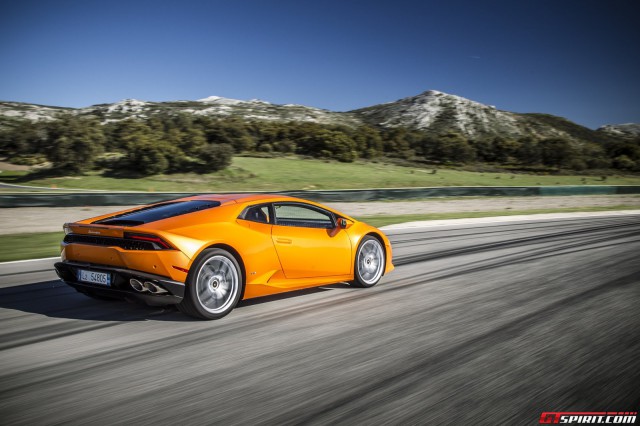 The faster Lamborghini flagship derives a mechanical grip advantage from its longer wheelbase and wider tracks. While Marco later told me that he was just shy of drifting the pace car out of every turn, I found myself exiting several of the bends in power oversteer. My conversation with Marco on the comparative grip limits of both cars confirmed this observation.
With its slightly lower levels of outright grip, the Lamborghini Huracán is huge fun to punt around a racetrack. On standard street tyres as our test cars were, it tends towards initial understeer, which you compensate for by trimming back entry speed, taking a slightly later turn-in, and keeping everything smooth and tidy.
As you progressively add throttle through a bend, you can feel the 4WD system shifting power aft and the back end rotating round. How far it goes is down to how you use the throttle.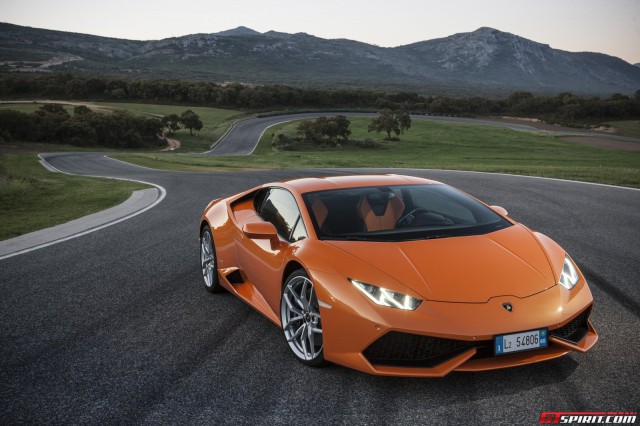 On full noise, the crisp, naturally-aspirated V10 motor rapidly picks up revs, its deep, offbeat, primary note building to a spine tingling scream as you pass the apex and decide whether neutral or oversteer will define your attitude for the exit.
The handling is very user friendly in this respect, the clever diffs and electronics helping the driver on the limit in a fairly transparent way. All this requires a lot of high-speed data transfer capability, and so the Lamborghini Huracán has a FlexRay section within its CAN-BUS network, a first in this segment.
Feeling the limitations of the street rubber, I was curious to know how the 2015 Lamborghini Huracán would fare on trackday rubber. "As you would expect, Cup tyres take the handling and grip to the next level," explained project leader, Federico Foschini. "There is less initial understeer, and a more progressive transition to oversteer thanks to the stiffer side walls, reduced tread depth and stickier compound."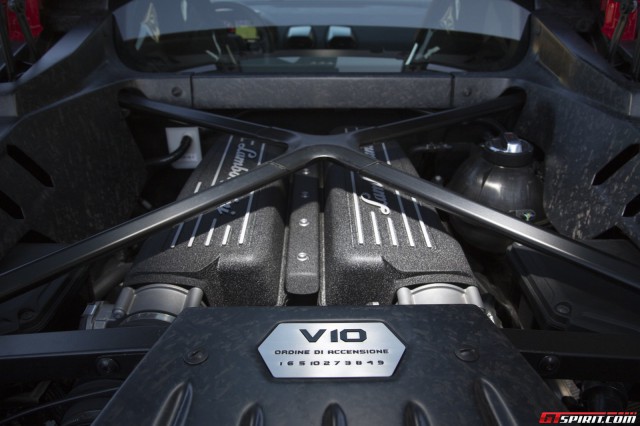 At the other end of the scale, It was also interesting to try the Strada (Street) mode on track, but it took less than half a dozen mushy feeling corners before I flicked the switch to Sport and then Corsa for the last two laps.
Variable ratio steering is a potential can or worms, and I have encountered some pretty awful systems over the years. However, electro-hydraulic systems are potentially more accurate at apportioning variable assistance than hydraulic ones, and Lamborghini's system is one of the better ones.
With the ability to alter its steering ratio by almost 100-percent, from 9:1 to 17:1, the system delivers the most assistance up to 50km/h to help you in the car park and around town. It then backs off to a less sensitive ratio over 100km/h to reduce nervousness at speed. A party trick is its delivery of tiny, targeted counter steering impulses to help the driver cope with understeer and oversteer during load transfer.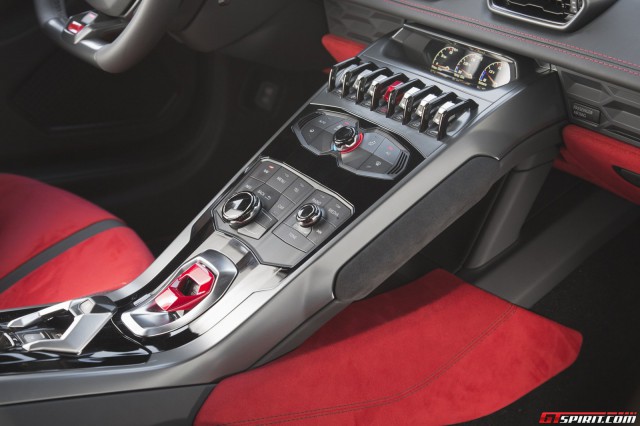 Dubbed the ANIMA, (Adaptive Network Intelligent Management, and also Italian for soul, the system that changes the dynamic character of the Huracán, is operated by a flick switch near the bottom of the steering wheel.
With a choice of Strada, Sport and Corsa, ANIMA alters the engine, gearbox, steering and chassis response, and thus the cars character and behaviour. ESC can be completely disengaged via a separate button.
In Strada (Street) mode, the 2015 Lamborghini Huracán is as user friendly as a car of this type can be. Left to it's own devices, the seven-speed dual-clutch gearbox delivers up and downshifts as well mannered as you would expect from the automatic transmission in a premium family saloon.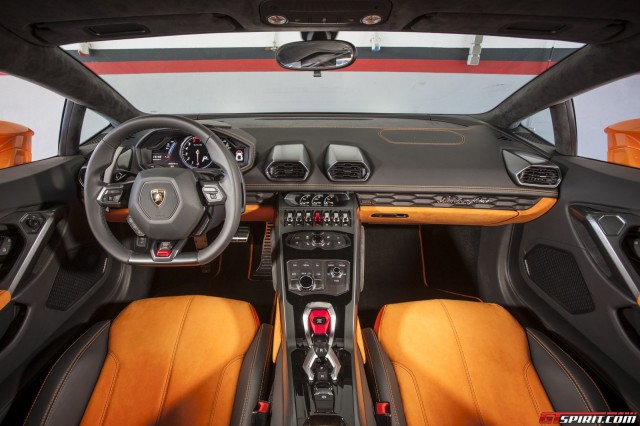 Flick the easy-to-use switch on the steering wheel to Sport and ratio changes take place noticeably faster, with the steering and chassis responses also going to a higher level of alert.
Unlike with some rivals, Corsa (Race) mode is not an overly hyper experience on public roads, but is the default setting for the racetrack. As with all such systems, Sport is the best overall compromise for an engaging driving experience on the road.
Suspension is by racecar style double-wishbone suspension with lightweight forged aluminium arms. MagneRide damping is an option. Personally I would have expected them to be standard since active damping is part and parcel of the Lamborghini Huracán's rivals from Ferrari and McLaren.
The 5,204cc 90-degree, dry-sump V10 motor with variable valve timing is an evolution of the Gallardo motor with the same under-square 84.5 x 92.8mm bore x stroke dimensions. A lot of the internal components have been uprated or more finely honed, and the compression ratio is an amazing 12.7:1.
Fuelling is by a dual-injection system using IDS + MPI. This combination of direct and multi-point injection is required to meet the Euro 6 emission standards.
The IDS half provides better start-up fuelling and top-end power, while MPI provides indirect fuelling into the manifold for better economy and emissions at low crankshaft speeds. Both systems work simultaneously at medium speeds and engine loads. Overall control comes from the Bosch MED 17 engine management system.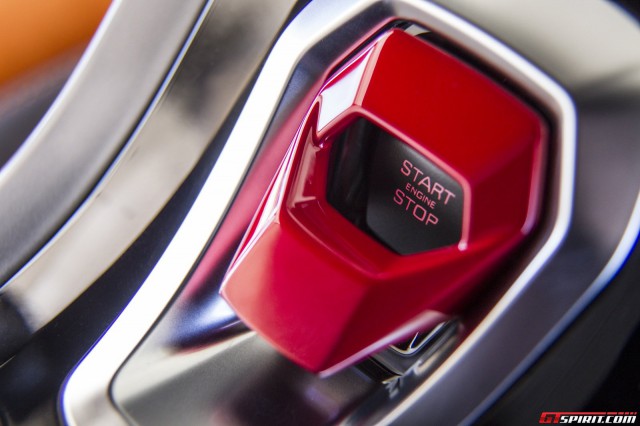 The high-revving V10 produces 610hp at 8,250rpm and 650Nm of torque at 6,500rpm. Significantly, 75-percent of peak torque is available at just 1,000rpm, making this an exceptionally tractable motor.
Response is another a vital part of the sporting feeling in such a car, and the latest V10 motor is able to achieve a faster 'tip in' than with the Gallardo. This means it can gather more revs in a shorter time for better throttle response and that all-important lively feeling.
[youtube]https://www.youtube.com/watch?v=eJnWPhSQjPs[/youtube]
The seven-speed, LDF dual-clutch transmission is made by Graziano. While it shares its bell housing with the S-Tronic unit in the Audi R8, the gear ratios are bespoke to Lamborghini.
The power-to-weight ratio is an impressive 2.33 kg/hp. With Launch Control engaged, the 2015 Lamborghini Huracán will spin all four wheels for a second as it blasts to 100km/h in 3.2 sec, 0-200km/h in 9.9 sec and on to its top speed of 325km/h.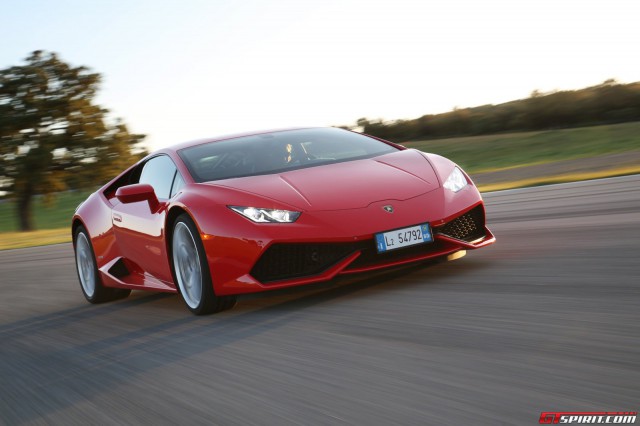 The multi-plate clutch that looks after power distribution normally runs with a 30/70-percent front/rear power split. But it can send up to 50-percent of peak toque to the front axle, and 100-percent to the rear if needs be.
Sitting on 8.5J and 11.0J x 20-inch lightweight alloys shod with 245/30ZR20 and 305/30ZR20 Pirelli PZero rubber, the Lamborghini Huracán has space for massive brakes too. These are 380 and 356mm diameter vented ceramic discs clamped by six-pot callipers in front and four-pots at the rear and work brilliantly on both road and track.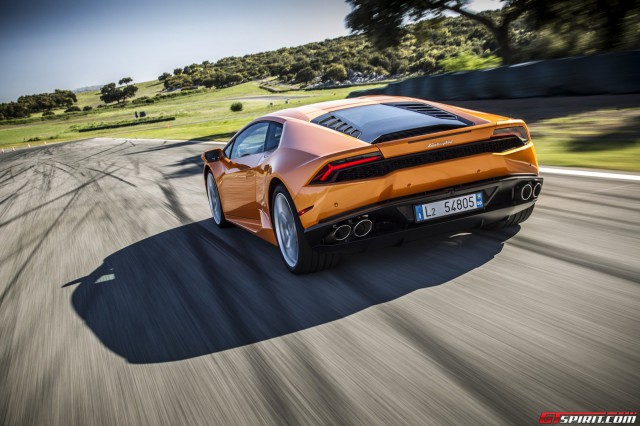 Using active damping (an option in the case of the Lamborghini), all three ride very well for their genre, offering a level of daily use refinement that was unheard of just five years ago.
Crucially, like the 2014 Porsche Turbo, the Huracán's all-wheel-drive system makes it an effective all-weather supercar, a clear advantage to potential clients in some markets.
Over its ten-year life, the Gallardo spawned a long list of variants, some just rear-wheel-drive. Lamborghini told us that the Lamborghini Huracán will see a more normal four year + four year cycle.
The Huracán comes charging out of the gate as a very complete and charismatic supercar. I can't wait to drive the even more focused variants as its playbook slowly evolves.