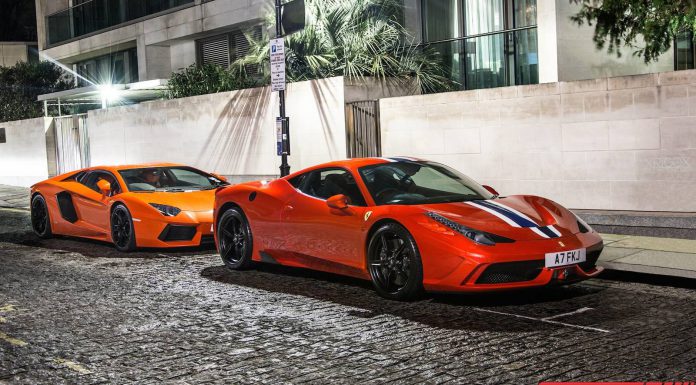 The Lamborghini Aventador and Ferrari 458 Italia are both growing a little long in the tooth. It's hard to think that the Lamborghini Aventador debuted at the Geneva Motor Show way back in 2011 and has been sold as a Coupe, Roadster, 50th Anniversary Coupe and Roadster and we are due to see the SV halo models imminently.
The Ferrari 458 is even older than the Italian bull. Launched in 2009, the 458 is set to be replaced in 2016 by the gorgeous Ferrari 488 GTB which is controversially turbocharged. The curtain call for the 458 was the Speciale Aperta. The 458 that features in todays Photo Of The Day is its Coupe brother, the Speciale, the final naturally-aspirated V8 Ferrari. The performance of the 458 Italia was blistering, but the Speciale took the game to new levels.
The Ferrari 458 Speciale features a modified variant of the regular 458 Italia's 4.5-liter V8 engine. In Speciale guise, it delivers a total of 597 hp and 398 lb-ft of torque. What's more, Ferrari claims that thanks to it delivering 133 hp per liter, it has the highest ever per litre output of a road-going naturally aspirated engine. Maximum power is achieved at 9000 rpm while max torque is reached at 6000 rpm.
The Lamborghini Aventador, even in its base form, was certainly no slouch. The Aventador features a 6.5-liter V12 engine that produces 700 hp at 8,250 rpm and 690 Nm of torque at 5,500 rpm. Using thrust mode – Lamborghini's version of launch control – allows you to reach 100 km/h in less than three seconds, 2.9 to be precise and 0-200 km/h is done in a staggering 8.9 seconds flat.
This fantastic image was captured in London by X Rixo X. For more on the Aventador be sure to check out our review of the V12 brute!