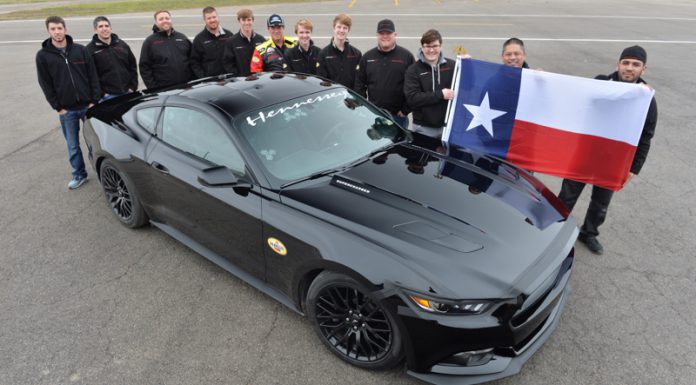 Hennessey Performance has just verified its modified 2015 Ford Mustang GT HPE700 in emphatic style by reaching 314 km/h (195 mph) in the car at the Continental Tires Proving Grounds in Texas.
[youtube]https://www.youtube.com/watch?v=HQsq19hPzzk[/youtube]
This particular Hennessey Mustang HPE700 just so happens to be owned by the company's founder and boss John Hennessey and has just proven itself as the fastest 2015 Mustang going around.
The staple of the Hennessey Performance upgrades is the addition of a Roots-style supercharger. Additionally, the throttle body has been upgraded, a stainless steel exhaust system added as well as upgrades to the fuel injector and fuel pump. All told, the 2015 Hennessey Mustang HPE700 delivers an impressive 717 hp and 632 lb-ft of torque. As a result, it will sprint to 96 km/h (60 mph) in a mere 3.6 seconds and complete the quarter mile in just 11.2 seconds at 210 km/h.