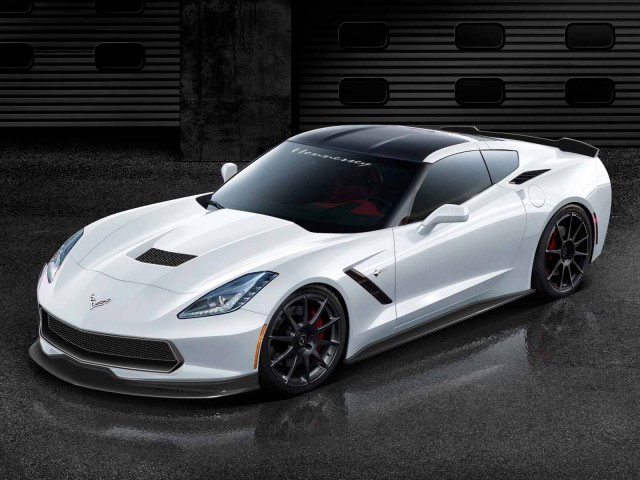 Hennessey Performance has been on a roll as of late with their Venom GT breaking speed records seemingly every month. Now, in anticipation of the release of the 2014 Corvette C7, Hennessey has announced their upgrade packages for the new Stingray.
The Hennessey HPE700 Corvette, expected to debut in October 2013, will feature over 700hp thanks to the addition of Hennessey's proven Eaton TVS R2300 supercharger. Transmissions will include either a 6-speed manual or 7-speed manual, depending on the tastes of the customer. Hennessey is even going as far to say that their 700 hp HPE700 Corvette may even outperform the factory C7 ZR1 when it is eventually released.
An optional CarbonAero bodykit is available, which consists of a notched rear spoiler, side sills, custom hood, and an "aggressive front splitter," according to Hennessey. All body pieces will be made from lightweight carbon fiber and are made to increase downforce, yet not look overly aggressive for the street.
From the renders provided to us, the car is shaping up to be quite a good looking piece of machinery. And with the stock Corvette providing for the first time a world class interior, the Hennessey HPE700 is looking to be another record-setting car. John Hennessey goes on to say, "We're only interested in changes that deliver a measurable increase in performance, period."
We're looking forward to seeing the HPE700 Corvette in the flesh in October, but until then, what do you guys think about it?