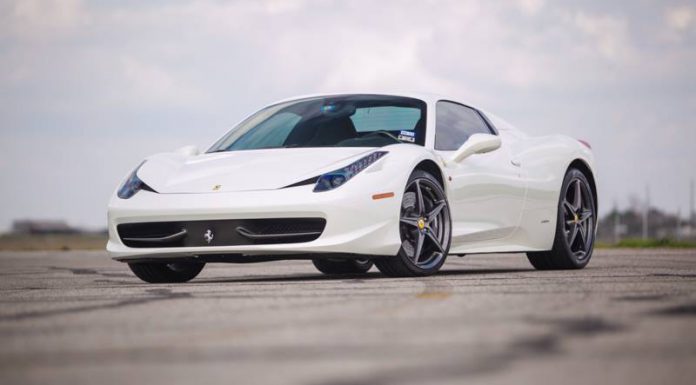 Hennessey Performance in Sealy, TX, is known worldwide as one of the world's most incredible supercar performance developers and installers. The recent Hennessey Venom GT world record is seeing supercar owners from around the world looking for more power upgrades, including the owner of this white Ferrari 458 Italia.
This beautiful Ferrari received the HPE700 package, which for the 458 Italia means 738 hp at 8,400 rpm and 532 lb-ft of torque at 5,600 rpm.
The owner, from Dallas, TX, recently took delivery of his long-awaited twin-turbo modified 458 Italia.
The HPE700 package includes:
• Twin Ball Bearing Turbochargers
• Fuel System Upgrade
• Stainless Steel Inlet Piping
• Dual Wastegates
• Air-to-water Intercooler System
• Dual Air Induction Filters
• Stainless Steel Turbo Downpipes
• Stainless Steel Exhaust System
• Custom Oil & Transmission Lines
• Professional Installation
• HPE Engine Management Calibration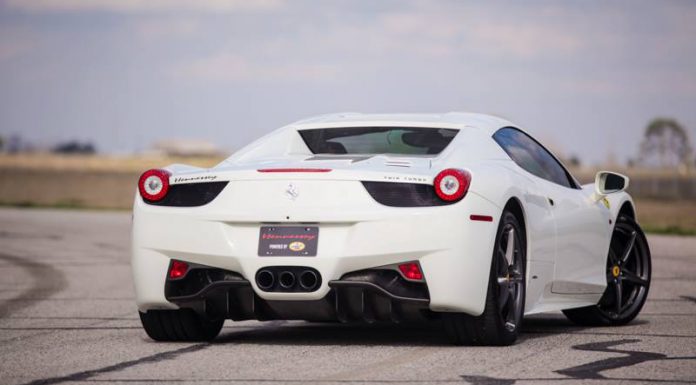 The owner will undoubtedly enjoy his 458 Italia a lot more with this most recent twin-turbo upgrade. His supercar will now do 0-100 km/h in 2.8 sec and can run a 1/4 mile in 10.5 seconds at 220 km/h.
This video details the Hennessey HPE700 package on the 458 Italia.
[youtube]https://www.youtube.com/watch?v=sCdvNLAyVds[/youtube]