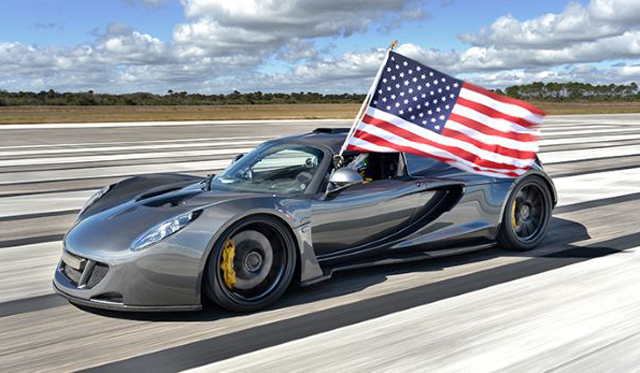 On February 14, the Hennessey Venom GT reached the highest top speed ever recorded by a production car hitting 270.49 mph at the Kennedy Space Centre. That incredible top speed has been GPS verified and it was actually set on the landing runway for NASA's space shuttle!
This top speed edges just ahead of the 269.86 mph clocked by the Bugatti Veyron Super Sport back in 2010. However, while it has proven itself to be faster in a straight line, the Hennessey Venom GT isn't officially the world's fastest production car. At least in the eyes of Guinness it isn't. For Guinness to verify such a record, the car has to make two runs in, one in each direction, before an average top speed is calculated. As for the Veyron Super Sport, it was calculated at 267.8 mph after one run of 265.96 mph and the aforementioned run of 269.86 mph.
Unfortunately, the Hennessey Venom GT was not permitted to run in the opposite direction by NASA. When discussing this, company boss John Hennessey said, "We wanted to run in both directions, but the NASA guys wouldn't let us. Getting into NASA isn't easy. It was a two-year process."
If however, the Venom GT was granted access to make top speed runs in both directions, Hennessey is confident that "the result would have been pretty much the same" in either direction. Additionally, Guinness only considers a car aiming for the production car record if 30 units are built. Just 29 units of the Hennessey Venom GT are destined for production and thus far, just 11 have been delivered.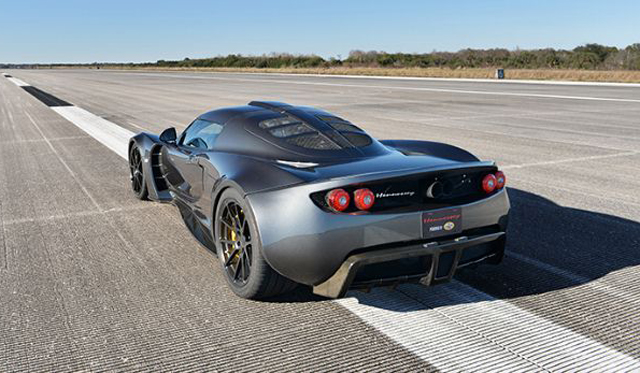 All the politics however, can't shield the fact of just how impressive this achievement is. The space shuttle runway is 3.22 miles long whereas Ehra-Lessien where the Veyron Super Sport's top speed was recorded is 5.5 miles long. Additionally, the screaming V8 powered American supercar sprinted from 20 mph to 120 mph in a mere 7.71 seconds as well as from 120 mph to 220 mph in under 10 seconds!
Behind the wheel of the car was former Michelin tyre test engineer Brian Smith. Upon achieving 270 mph, he said, "At the very top end, there was a little wandering, but hey, we're going 270mph! It was still pulling. If we could run on an eight-mile oval, we could go faster than that…"
As if you needed reminding, the Hennessey Venom GTs twin-turbocharged 7.0-liter V8 engine delivers an insane 1,244 hp at 1,155 lb-ft of torque at the rear wheels. Additionally, it weighs just 1,244 kg making for a perfect 1 horsepower per 1 kilogram power-to-weight ratio!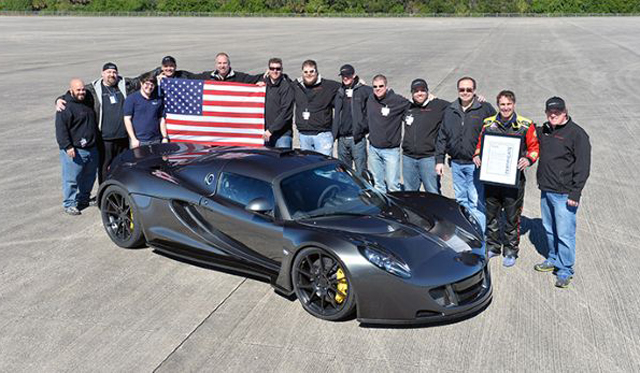 Discussing the achievement, John Hennessey said, "Since the inception of the Venom GT, it's been a dream of ours to build the fastest car. There are lots of different definitions, different metrics, but for us, when people talk about being the fastest, it's about being the absolute fastest. So it was a good day. We achieved the goal. No other road car has broken 270mph…"
He also confirmed that focus of the Venom GT will now switch to setting blistering laps at circuits around the world; "We'd like to switch gearing, and look at validating performance numbers on some well-known race circuits around the world. I think we could be the fastest at Dunsfold (Top Gear Test Track). We could go into the very low teens [i.e. a lap time somewhere around 1m13s] with Stig in the driving seat. That would be a bigger validation than breaking 270mph…"
[Via TopGear]