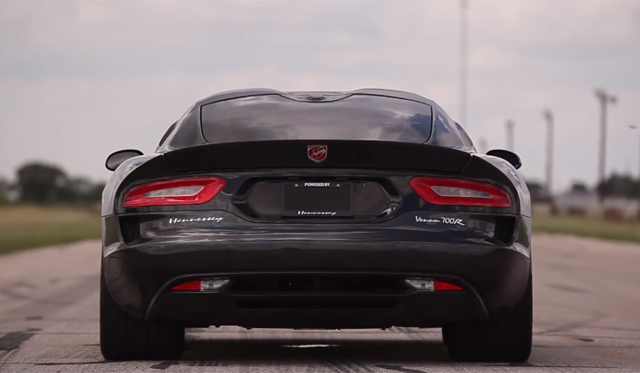 Hennessey Performance is not relenting when it comes to furiously testing its upgraded 2013 SRT Viper Venom 700R performance package as demonstrated by this video.
Under the hood, the Venom 700R package helps lift horsepower of the standard SRT Viper and SRT Viper GTS up to 705hp from the standard 640hp. The new peak power level if available at just 4,400rpm while torque has also been raised substantially to 695lb-ft. Consequently, the SRT Viper Venom 700R by Hennessey Performance can sprint to 96km/h in a swift 3.1 seconds.
[youtube]http://www.youtube.com/watch?v=vjjqxeLBUlw[/youtube]
The Venom 700R will then complete the quarter mile in just 10.7 seconds at 215km/h and is theoretically capable of a top speed of 347km/h (216mph), just 1mph slower than he Aventador's top speed!
Just how does Hennessey Performance manage to extract such power? Well, through the fitment of high-flow cylinder heads complete with stainless steel long tube headers, a K&N air filter, three-inch stainless steel exhaust system and high-flow catalytic converters.