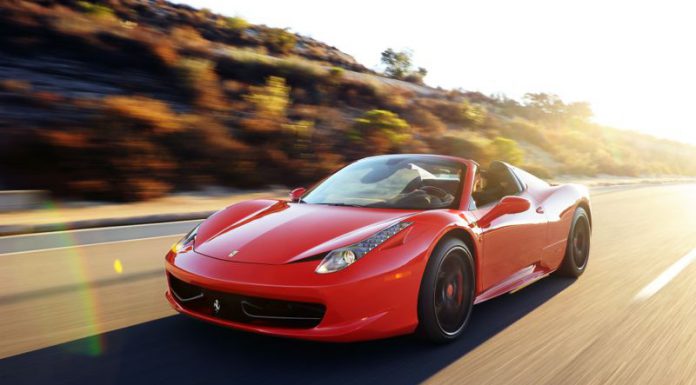 The Ferrari 458 Italia Spider is already a heavily-admired supercar, running 0-100 km/h in 3.5 seconds and produces 557hp from its naturally-aspirated V8 engine.
But for some, that's not enough power. They want to go even faster. Hennessey's established tuning program for the 458 Italia may just be the cure for this need for speed.
A few months ago, a client of ZR Auto approached the automotive tuning brand asking for more power for his newly-purchased 2012 458 Italia Spyder. Not soon after, the car was shipped to Hennessey's headquarters in Sealy, Texas.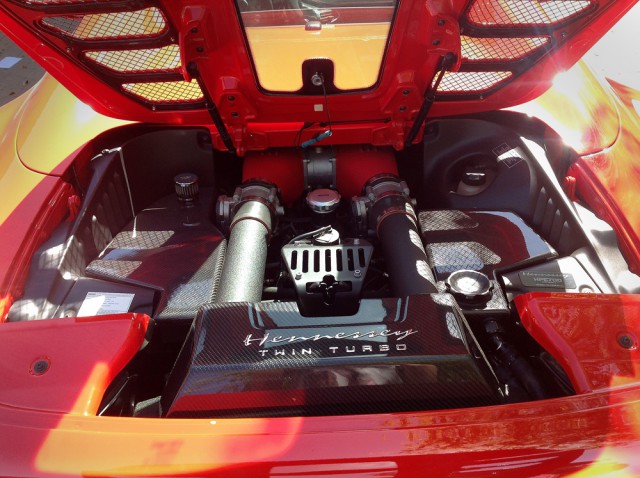 The 458 Italia Spider received the HPE700 twin-turbo system to increase the horsepower and to get the car off the line a bit quicker.
The owner of the car, from Edmonton, Alberta, currently drives an orange Maserarti MC12 Corsa, a green Lamborghini Murcielago LP750-4 SV, McLaren MP4-12C and more. He has made it clear in the past that the Ferrari brand is not his cup of tea.
"He's a Lamborghini guy, one-hundred-percent" said Zahir Rana of ZR Auto, "He says 'Zahir, what you drive are cross-dressing Lamborghini's,' but after driving this Hennessey 458 Italia, I think we might be able to convert him," Rana joked.
[youtube]https://www.youtube.com/watch?v=yjDSo9lzUts[/youtube]
When the 458 Italia was brought in to Hennessey, it produced a measly 393hp to the wheels. By the owner's standards, that's just not enough.
With the twin-turbo system installed, the dyno-tested 458 Italia Spyder now produces a whopping 590hp to the wheels, and 840hp to the flywheel, more than double what it produced before.
"He's has already driven the car to Phoenix, and he's told me that he's enjoying it," Rana said. "We'll see if this converts him!"
Below are the dyno results, before and after the HPE700 kit was installed. Will this be enough to convert a die-hard Lamborghini-lover into a Ferrari guy?