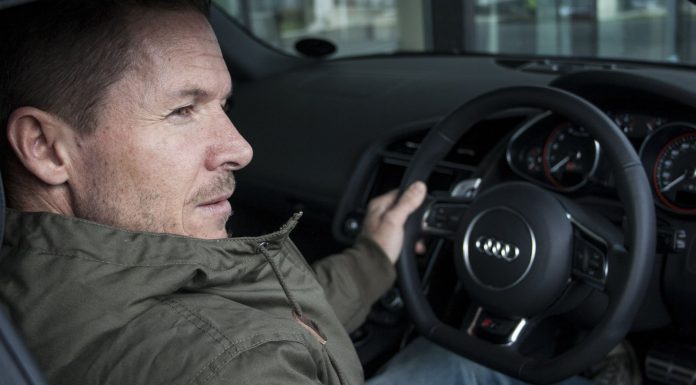 Last weekend we had the privilege of following Felix Baumgartner as he prepares for the drive of his life at the Nurburgring 24 Hours. Felix will be driving the super fast Audi R8 LMS ultra in just three months time. And needless to say, he'll need to bring his A-game to the mighty Grüne Holle!
 
In preparation for our own trip we thought it best to kindly decline the flights Audi offered us and drive down from the UK in a Audi R8 V10 S tronic, GTspirit style! Whilst not an LMS Ultra, the V10 S tronic is a true supercar featuring the seven-speed dual-clutch S tronic gearbox which replaces the older and slower changing R. The R8 will hit 100 km/h in 3.4 seconds and will carry on to 314 km/h, but only if you're on private roads or the Autobahn!
Our 7hr, 433 mile drive at least started to give us some of the feelings that will be rushing through Felix's head come June, just at a slower and more comfortable pace. There's no denying that the R8 is a supercar but it is also an exceptionally good GT car. In full automatic mode miles are covered with ease, the cabin is spacious and the seats comfortable but it's all about that gorgeous V10 noise which is addictive.
 
But that's enough about the R8 we are driving (you can read more on that soon), lets talk about Felix. Felix, as I'm sure you are aware, jumped from a helium balloon in the stratosphere on 14 October 2012 for the Red Bull Stratos project. He skydived a record breaking 24 miles (39 km) and became the first person to break the sound barrier without vehicular power on his descent, which is mind boggling.
 
For his next challenge Felix is learning the fearsome curves of the Nurburgring Nordschleife. Over the next three months he will enter VLN races, take part in setup runs, enter a qualification race and then enter more VLN races until June 21st when the flag drops on one of the toughest car races in the world.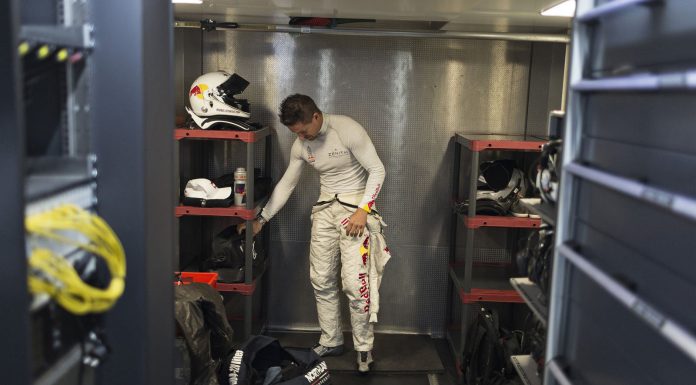 Audi have partnered Felix with a really strong driver line up, five-time Le Mans winner Frank Biela (D), the three-time Le Mans winner Marco Werner (D) and the GT and sports car pro Pierre Kaffer (D) will be his colleagues in the cockpit.
 
So, with three months to go, here we are sat with Felix Baumgartner at the Nordschleife during a VLN test day.
 
Hi Felix, thanks for your time, I guess we have to start with the obvious question, how does the challenge of training for the Nurburgring 24hrs compare to your record breaking Red Bull Stratos skydive?
It's completely different, as a skydiver it was always a single person sport and if you fail or make a mistake it's just you. When you compete at the Nurburgring 24hrs it's a team effort and as soon as I fail there will be a lot of sad faces because there are three other drivers in the team. If I destroy the car on the first lap or anywhere down the line we are not going to finish the race, there is a lot of pressure. Plus, I'm the weakest driver in the team. My background is skydiving, these guys are all serious racing drivers, Frank (Biela) and Marco (Werner) have won Le Mans many times.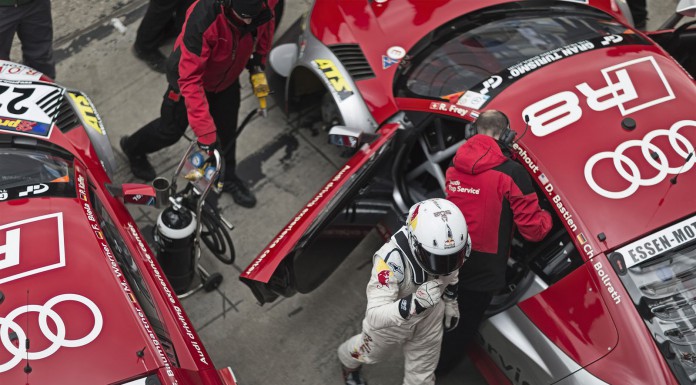 With such a steep learning curve ahead of you what do you feel is your biggest obstacle you need to overcome?
Right now, it looks like rain is the biggest enemy, all the practice laps I have completed have been on dry tarmac. Today it looks like it will rain in the evening and for sure it will rain during the race, it rains every year and often at night. It's really difficult to change your mental setup and driving skills, what was a good setup on dry tarmac is going to be wrong if its wet. You have to change your racing line, change your driving performance and that requires lots of practice and racing experience which I don't have. There's a really short amount of time that I have available to bring me up to speed, at the moment I have no idea how to handle this. I'm not so worried about dry tarmac, I ran a lot of dry practice laps last week and for what it was it was fast. But, now in wet conditions it's much harder and I'm not used to being on track with race traffic. When I practiced last week I was by myself. Now I have to look forward on the race track to find the right points and I have to look backwards as there are faster cars coming up behind. So the workload is now really building up, everyday there's something new I have to process. Everybody has a lot of expectations of me and recommendations and I have to process all this during high speed, this is not easy.
 
During your other challenges you have been alone and now as you say you are on a race track with other cars, does that extra unpredictable human element make it much harder?
Of course we have a lot of difficult factors here. First of all the different weather conditions, secondly, a bad ass race car that's not easy to handle like a road car. There are also a lot of unpredictable drivers on the race track, during the race there's 180 drivers out there. Plus the night, everything looks different at night. When you drive around there are a lot of corners on the Nurburgring, one lap is 22 km. It's not easy to remember so you put in a lot of reference points into your mental memory. At night everything looks different so now you have to find different reference points, plus there are high beam lights coming from behind. So the pressures going to be on that day, that's for sure.
So the night element is a big deal, have you had the chance to do any night time laps yet?
Not so far, it's what I'm asking for, I'm saying 'ok guys i need to practice at night', this part is going to be so difficult, and the when it's raining that's another element. The windshield is not super clear and with the high beam lights in rain there's a lot of flashing and bright lights in your eye, it's not easy to find the right spot and this is all done at high speed.
 
You have some amazing team mates who are all very experienced racers, do you have a new found respect for them since taking on this task?
I think it's always important to have that little inside view, when you just watch racing on the television everyone knows what to do, everybody thinks they are a great driver, driving on the highway fast they think they are a good race driver. As soon as you're out there by yourself this is a totally different ball game. It takes a lot of practice and skills to do a fast lap, or to just stay on the track, not even a fast lap. Just staying on the track in these conditions you need to be at such a high level, I'm currently far away from that.
 
So I am sure you have driven the road going R8 V10 and now you have driven the R8 LMS ultra, how do they compare?
Well the road going R8 is a lot more dynamic and feels a lot more dramatic to drive fast. The race car is more challenging because of the speed and G-force and how late you can brake. It's much smoother on the race track, with the slicks it sticks on the race track and the aerodynamics are a lot better. So it provides a lot more thrust at high speed on a track than the street R8 which is built for the road. 
The road going R8 is a great concept, it amazes me just how fast you can drive the street R8 on the 'Ring. It feels like a real race car but it's built for ordinary street driving, it's interesting how much performance that car has on the race track without being a race car.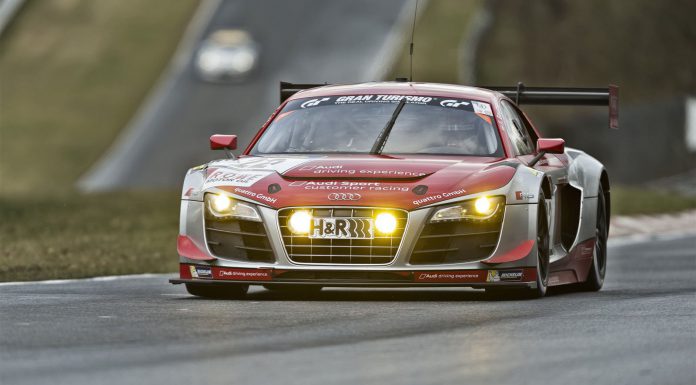 So you have been doing some laps in the road R8 to get yourself used to the corners?
Yeah it helps a lot, driving a race car is super expensive. It doesn't help while you're driving around learning all the corners, you don't need to waste money using the race car because there's is no benefit when you are trying to learn the track. Last week I was learning where to put the car, where to brake and steer in. Using the ordinary road car helps and that's why we took the road R8 out first, because it's not so noisy inside and it's more comfortable. You really have your focus on the track, putting everything in your memory, as soon as you know where to drive then you swap over to the race car and give yourself another challenge.
 
So driving around the Nurburgring, there are a few spots where the car gets airborne, have you been flying through the air again yet?
As soon as you are super fast, the car becomes really light in some of the sections, sometimes the wheels are completely in the air and that's where you have to make sure the car is completely straight. You don't do anything with the steering as soon as you land the car is creating a lot of dynamic and having dynamic in the car at super high speed always ends up in a crash! You really have to drive smooth, the more the car rolls, the more the car goes smooth in and out of the corners the easier it is for yourself. You are trying not to use up all your energy, we are racing for 24 hours, one stint is 2 hours, every lap is challenging. The smoother you drive the more energy you save at the very end of the race thou you still have some left it means you have a lot more concentration meaning you're not going to make stupid mistakes and you are going to finish the race, this is what we all want.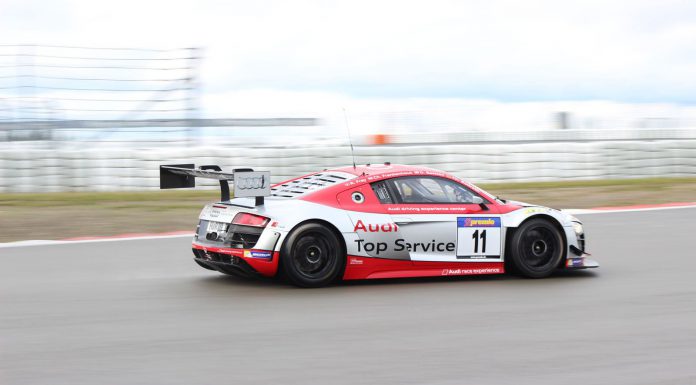 24hrs later, what is your main goal? To be able to walk away from the race and be happy?
My big goal is staying on the race track with the car, making sure I don't destroy the car. I want to be able to hand it over to the next driver and also not lose too many places during the night. I can probably make up some places in the race and so long as I don't destroy the car and have a good average speed I am happy. I have to be serious and realistic on this race, if I was a normal race car driver it would take years to work your way up to competing in the 24hrs. Especially in a car like the Audi R8 LMS ultra. I'm coming from nowhere, out of the blue sitting in a very serious race car on a very serious track, there's a reason why they call this the 'Green Hell'! You know, my background is skydiving, of course I'm used to speed but it is a completely different setup, the speed in the air, there's no road, nothing that you have to follow, you just go down as fast as you can its completely different. People always think: 'hey you broke the speed of sound so this should be easy.' But you cannot compare these two things, it takes a lot of mental discipline, you need endurance, you need to be focused and you need to listen and learn from other racing drivers. So everything is based on the same principles as when I was working on Red Bull Stratos. It was the exact same thing, I was coming out of nowhere, I'm not an astronaut, I'm not a scientist but I was willing to learn, that's the reason, I was sucking all the information up, making sure in a short amount of time I can keep up a serious conversation with a scientist. It took me almost a year until I was at that level, but from that moment on it was a lot easier to work with these guys. It's the same thing here, I'm talking to every racing driver I can, there are some guys out there that are willing to give out lot of information and some are hiding information so you have to find the right guys to work with.
 
Sounds like you are taking this very seriously. I only have time for one more question, so, what is your favourite part of the track?
The 'Fuchsröhre' is really impressive because it's all flat out and it always feels like you cannot go flat out. My race car teacher says to me 'hey you can go flat, you just have to take the right line and you can go all the way flat'. Every time when you come into it, it feels like you have to lift a little bit and then on my fifth lap I was all the way flat out and it feels so great. You know when you finally go down and hit the other side and you go up the hill and there's a lot of compression there and it feels like 'F*** I did it' you know. It's like growing up. The same at the very end of 'Döttinger-Höhe', 'Antoniusbuche', it's flat out and you have to steer into a corner that's not visible. You always want to see the corner to know where to steer, but you know, directly under the bridge you steer to the left blind and a second later you can see the spot and its perfect. But every lap when you come back to that point you have to overrule your feelings because they are telling you something different. That is what amazes me the most, that your feelings don't count here, you constantly have to overrule your instincts and you have to follow the book, the rules and what the teacher is telling you. Your feeling is completely wrong here, especially as a non race car driver, so you really have to stick to the plan otherwise you are going off the track.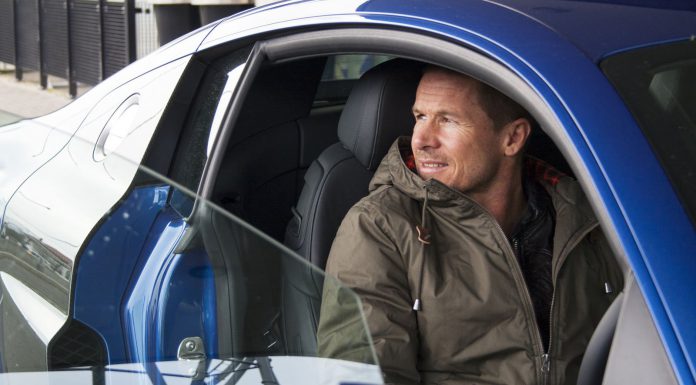 Felix, many thanks for your time and everyone at GTspirit wishes you the best of luck at the 24hrs in June. Many thanks to Agnes Happich at Audi.de for arranging this exclusive interview and trip and Louise Vukomanovic at Audi.uk for the loan of the exceptional Audi R8 V10.