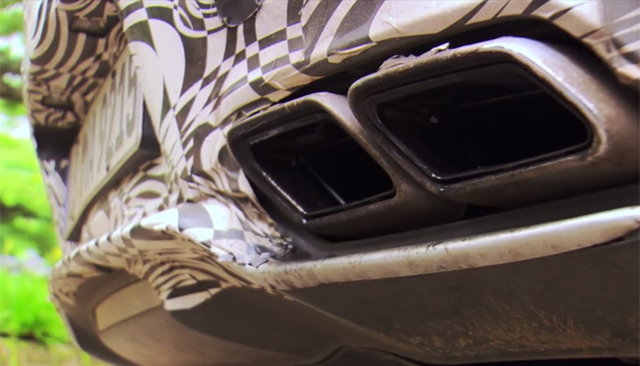 In just six days' time, the 2015 Mercedes-AMG GT will launch. In order to get us even more hyped for the launch of the new range-topping Mercedes-Benz model, the company has released a nice video demonstrating its brand new exhaust note.
Immediately discernable from the outgoing SLS AMG and its unique naturally-aspirated 6.2-litre V8 crackle, the Mercedes-AMG GT sounds more typical of a V8 despite the inclusion of two turbochargers.
[youtube]https://www.youtube.com/watch?v=b4Xjtrv8VKs[/youtube]
We know that underpinning the Mercedes-AMG GT will be a new twin-turbocharged 4.0-litre V8 engine. This engine is not only important in that it will power the firm's premium sports car but because it will become Mercedes-Benz's staple performance-oriented engine. It will underpin the next-generation Mercedes-Benz C63 AMG as well as the next-gen E63 AMG. Further down the road, the S63 AMG is likely to adopt it as will the company's range of power-hungry offroaders like the G-Class and for the first time, the GLK in the form of a GLK63 AMG.
When fitted to the range-topping Mercedes-AMG GT-S, the 4.0-litre biturbo V8 engine delivers an impressive 503 hp at 6250 rpm. That equates to 126 hp per litre and is joined by an equally impressive torque figure of 479 lb-ft between 1750 and 4750 rpm.
Known internally as the M178, the engine is a completely new replacement for the naturally-aspirated 6.2-litre V8 engine which of course powers the GT's predecessor, the SLS AMG.
It features the same 83 mm bore and 92 mm stroke as the 2.0-litre turbocharged four-cylinder utilised by the A 45 AMG, CLA 45 AMG and GLA 45 AMG. The turbochargers are produced by Borg Warner and operate at a maximum pressure of 2.3 bar.
Some of the other cool features of this new powerplant is the Bosch piezo injection system which delivers up to seven injections per cycle. Elsewhere, the cylinder barrels are finished in the German marque's Nanoslide material to dramatically reduce friction and improve efficiency.