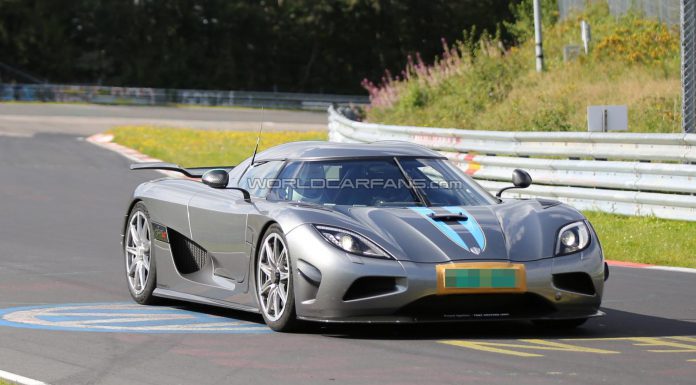 An interesting Koenigsegg Agera R prototype has been snapped during testing at the famous Nurburgring race track in Germany.
With the exception of the side mirrors taken directly from the mighty Koenigsegg One:1, this prototype looks like any other Agera R. We recently filmed this same prototype on the Nurburgring back in early June where it was reportedly hitting the track in a lap record attempt.
Beneath the skin, the existing Agera R is fitted with a twin-turbocharged 5.0-litre V8 engine which runs 28 bar of pressure. On regular 95 octane fuel, it manages to deliver an exceptional 960 hp while on E85 bio-fuel, that power figure soars up to 1140 hp! Incredible though, the Agera R engines passes worldwide emissions standards as well as maintaining a 16mpg fuel economy rating. Power is routed to the rear wheels through a 7-speed dual clutch gearbox. It combines a dry and wet clutch system for ultra-quick shifts. It is lighter, faster and more reliable than similar gearboxes.
[Via World Car Fans]