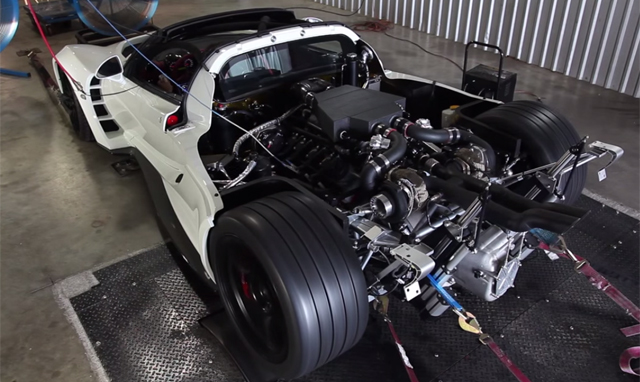 At Monterey Car Week 2014, Hennessey Performance unveiled the very first example of the Hennessey Venom GT painted white. Now an awesome video of the potent American supercar hitting the dyno has been released and as you'd expect, it sounds absolutely brutal!
[youtube]https://www.youtube.com/watch?v=mQ2axyzorrs#t=77[/youtube]
On Valentine's Day this year, the Hennessey Venom GT hit the highest top speed ever recorded by a production car after hitting 270.49 mph at the Kennedy Space Centre. That incredible top speed has been GPS verified and it was actually set on the landing runway for NASA's space shuttle! Such an incredible top speed was achieved thanks to the potent 7.0-litre V8 engine with two turbochargers. All up it delivers 1244 hp at 6600 rpm and 1155 lb-ft of torque at a low 4400 rpm.
This top speed edges just ahead of the 269.86 mph clocked by the Bugatti Veyron Super Sport back in 2010. However, while it has proven itself to be faster in a straight line, the Hennessey Venom GT isn't officially the world's fastest production car. At least in the eyes of Guinness it isn't. For Guinness to verify such a record, the car has to make two runs in, one in each direction, before an average top speed is calculated. As for the Veyron Super Sport, it was calculated at 267.8 mph after one run of 265.96 mph and the aforementioned run of 269.86 mph.
Just recently, Hennessey announced the successor to the Venom GT, the Venom F5 hypercar. Set to be revealed next year, the Hennessey Venom F5 will use an upgraded version of the GT's 7.0-litre twin-turbocharged V8 engine. In the standard Venom this produces 1244 hp but for the F5 it could be increased to 1400 hp. When joined with a kerb weight of less than 1300 kg, the Venom F5 will have a power to weight ratio of more than 1000 hp per tonne! By comparison, the Bugatti Veyron Super Sport has a measly 630 hp per tonne by comparison. As a result of this, a 290 mph top speed is being targeted!