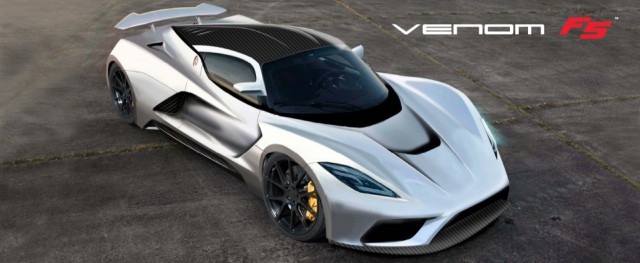 In pretty much everyone's eyes except those of Guinness, the Hennessey Venom GT is the world's fastest production car after hitting 270 mph earlier this year. Unfortunately, not enough units of the Venom GT are being created for it to qualify as a production car, according to Guinness. Not deterred, the American tuner and now full-blown automaker is planning an even more powerful and quicker model dubbed the Hennessey Venom F5 potentially capable of reaching 290 mph!
Set to be revealed next year, the Hennessey Venom F5 will use an upgraded version of the GT's 7.0-litre twin-turbocharged V8 engine. In the standard Venom this produces 1244 hp but for the F5 it could be increased to 1400 hp. When joined with a kerb weight of less than 1300 kg, the Venom F5 will have a power to weight ratio of more than 1000 hp per tonne! By comparison, the Bugatti Veyron Super Sport has a measly 630 hp per tonne by comparison.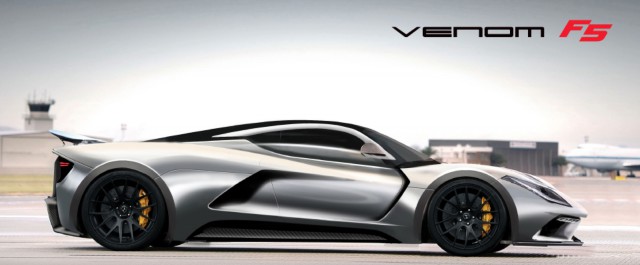 As these renderings show, the design of the car will also be completely different to the Venom GT with a key focus being improving the aerodynamics of the hypercar. The Venom F5 will still be built around a custom Lotus Exige frame but the drag coefficient should drop from 0.44 of the current car to 0.4.
Mated to the more powerful engine will be the same six-speed manual transmission as the current Venom GT. However, the F5 will also be available with a single-clutch paddle-shift transmission. In a similar vein to the Koenigsegg One:1 which features GPS controlled aerodynamics, the Venom F5 is set to utilise GPS-based traction control which can be calibrated to race tracks like the Nurburgring.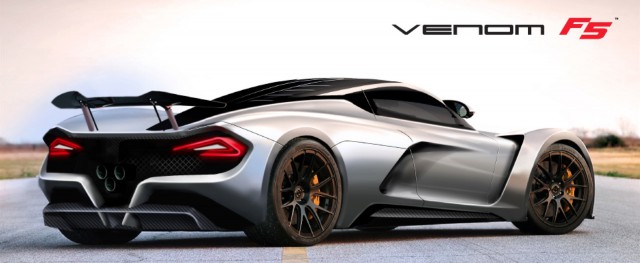 When discussing the challenge of reaching the 290 mph top speed, John Hennessey said, "With the F5, we definitely want to validate its top speed potential. We'll probably go to Bonneville. But running on the salt flats is a challenge, for sure."
[Via Top Gear]