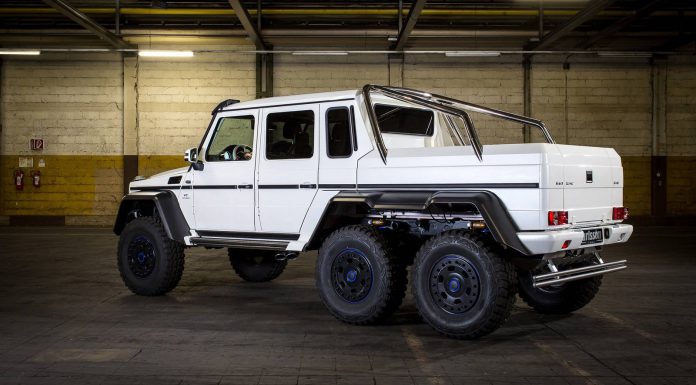 Rest assured, no car, supercar or even hypercar is good enough for a tuning manufacturer. Whenever you think an automaker has pushed one of its vehicles to the absolute extreme, an aftermarket tuner will go about making it even more eye-catching and more importantly, faster. One great example of this is the absurd Mercedes-Benz G63 AMG 6×6 and the fact that a handful of tuners have already released upgrades for it.
The latest company to do just that is Carlsson with the released of their upgrade packages for the impressive off-roader. Starting with the engine, Carlsson have installed their CK63 Performance Kit which adds some new features include a plug-and-play ECU which remaps the fuelling, ignition and boost on full throttle. Consequently, power rises from the standard 544 hp up to 650 hp while torque increases from 760 to 900 Nm.
Inside, Carlsson is able to complete customise the fit and finish of the off-roader with its signature line leather and alcantara with wooden and carbon fibre inserts available. Some standard interior upgrades include new floor mats made from soft suede or Merino sheepskin, stainless steel scuff plates with a blue Carlsson logo, aluminium door-lock pins and aluminium foot pedals.
Pricing for the upgrades aren't yet know, but considering the tall asking price in excess of $500,000 for the standard car, don't expect these upgrades to come cheap!