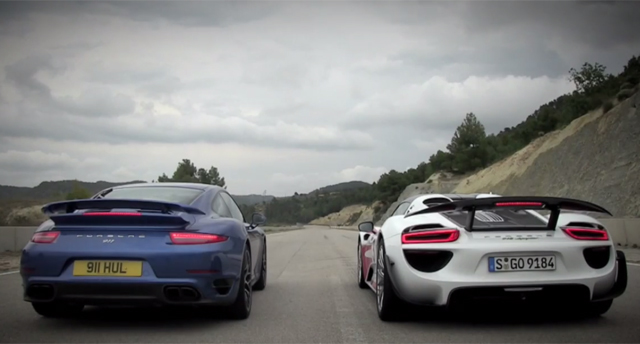 The Porsche 911 Turbo S and Porsche 918 Spyder Weissach are the two fastest cars Porsche currently offers. In order to see just how the two compete against each other in a straight line, Top Gear decided to pit them together to see just how they compare in a straight line.
[youtube]https://www.youtube.com/watch?v=6Zh7G1062IA[/youtube]
In case you needed reminding, the Porsche 918 Spyder is one of three new hybrid hypercars redefining the supercar market. It is powered by a naturally-aspirated 4.6-litre V8 engine delivering 608 hp and joined with two electric motors to lift peak power to 887 hp!
By comparison, the latest generation 911 Turbo S delivers an extreme 560 hp from its 3.8-litre twin-turbocharged six cylinder engine as well as 710 Nm of torque!