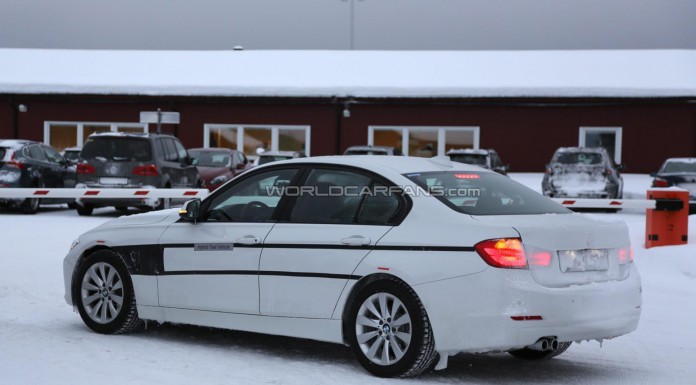 BMW is currently hard at work testing and developing its latest car in its ever-increasing range of hybrids in the form of the BMW 3-Series Plug-in Hybrid. Now, new spyshots have emerged showcasing the efficient 3-Series testing in the snow.
From the visual side of things, the BMW 3-Series Plug-in Hybrid will look essentially identical to the standard 3-Series. This shouldn't surprise anyone as it will effectively sit in the 3-Series line-up just like any other variant, despite being much more efficient. As a result of this, the prototype you see above is wearing almost no camouflage apart from a little bit of black tape being used to cover up the plug-in electrical socket.
Pinned to hit the market this year, the BMW 3-Series Plug-in Hybrid will share much of its technology with the BMW X5 eDrive Concept revealed at the IAA Frankfurt Motor Show last year. That car utilises an internal combustion TwinPower turbo four-cylinder engine delivering a total of 95 hp. While that doesn't sound like much, it is joined by a lithium-ion battery pack helping to bring the combined power output up to 272 hp. In X5 eDrive Concept spec, that's enough to send the car to 100 km/h in under seven seconds.
However, due to its smaller size, we expect the 3-Series Plug-in Hybrid to deliver slightly less power.
[Via World Car Fans]