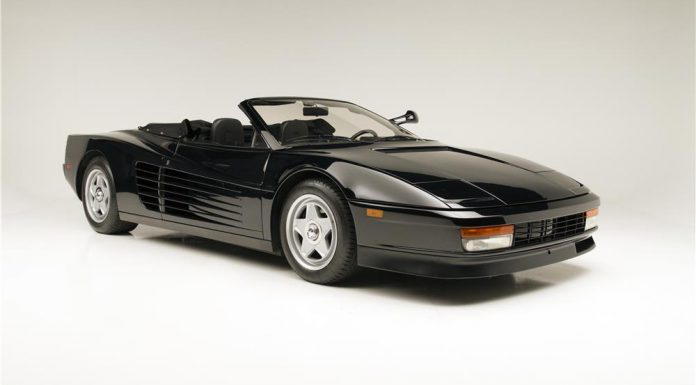 In addition to selling Simon Cowell's infamous black Bugatti Veyron, at the upcoming Scottsdale auction for Barrett-Jackson, the company will be selling off a rare 1986 Ferrari Testarossa Straman Convertible.
The 1986 Ferrari Testarossa Straman Convertible was limited to just 12 units and one of the most unique design elements has to be the 'flying mirror'. The single wing mirror is mounted higher up on the A-pillar than normally and gives the car a really unique look. Making the black example heading to auction even more exclusive is the fact it was driven by none other than the king of pop, Michael Jackson, in the 1987 Pepsi commercial called "The Chopper".
Ferrari never actually offered a Testarossa convertible to the public. However, it did build a one-off example for the once head of Fiat. Driven by the interest in this one-off, in stepped Richard Straman, well known for creating the Ferrari N.A.R.T.Spiders. He was commissioned by Ferrari to create a Testarossa convertible. Ferrari owners were so impressed, that he created a limited run of Straman Convertibles.
Under the hood, it is powered by a 4.9-liter flat 12-cylinder engine delivering an impressive 380 hp and mated to a five-speed manual transmission.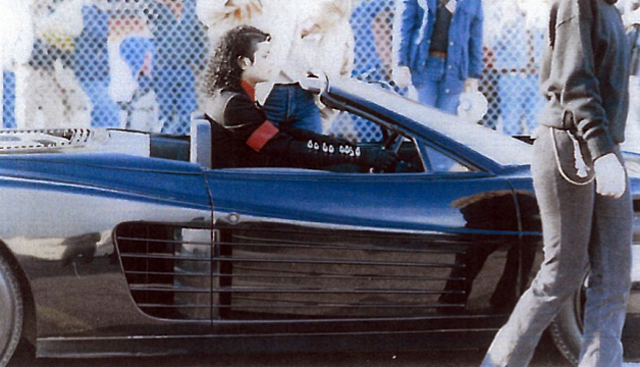 The car heading to the Barrett-Jackson Scottsdale auction recently underwent a major service early last year costing $17,680. It is currently unclear how popular the Straman Convertible will be when it hits the auction block, but one unit in the U.K. is currently up for grabs for just under 70,000 pounds. However, considering this car's history with Michael Jackson, expect it to sell for much more than that.
[Via Barrett-Jackson]