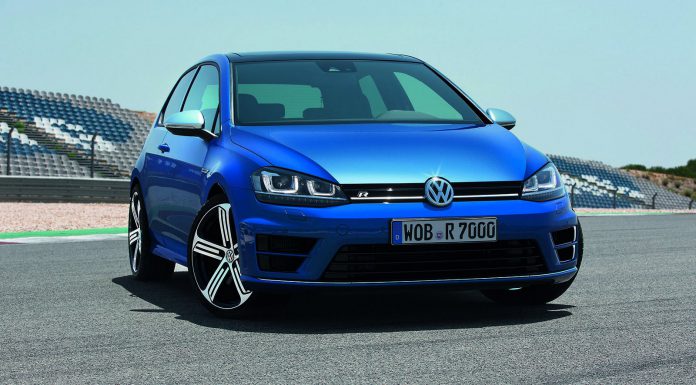 After first revealing the 2015 Volkswagen Golf R towards the end in August last year, VW has officially previewed the U.S-spec car and unsurprisingly, it isn't quite as impressive as those heading to Europe and other parts of the globe. It will debut at Detroit.
First and foremost, the new Golf R will only be available in the United States as a four door and will take about an extra year to hit the market meaning it'll be a 2016 model in states following first deliveries in the first quarter of next year. Additionally, its 2.0-liter engine has seen a slight reduction from the 295 hp of the Euro-spec car to "an estimated 290 horsepower".
Other than these two differences, the U.S. spec Golf R should remain identical to the European bound one. What this means is that the advanced turbocharged 2.0-liter four-cylinder engine should also deliver 380 Nm of torque, an increase of 30 Nm over the previous generation Golf R. These figures become even more impressive when you consider that the Volkswagen GTI delivers just under 230 hp, and that's already an extremely potent hot hatch.
Compared to the Volkswagen GTI, the 2016 Volkswagen Golf R's engine features a new cylinder head, exhaust valves, valve seats and springs, pistons, high-pressure injection valves as well as a redesigned turbocharger. All that power is then sent through a permanent 4MOTION all-wheel drive system which has always been a trait of the Golf R. Completing the powertrain is a 6-speed manual transmission featuring a reinforced clutch and short-travel shifting. The 2016 Volkswagen Golf R can also be purchased with a 6-speed dual-clutch DSG gearbox.
The 2016 Volkswagen Golf R then features a new sports suspension setup individually tuned to the new car. Compared to the regular Golf, the new Golf R sits 20mm lower, thus making it a further 5mm lower compared to the GTI. Helping to deliver optimal handling in the new Volkswagen Golf R is a MacPherson-type front spring strut with a newly developed low wishbone and track-stabilising scrub radius.
Read more about the latest Golf R in our previous post here!
Note: Euro-spec Volkswagen Golf R pictured.